On Wednesday, November 30, 2022, RHP's Frank Pagone, PhD, CIH joined industry experts for a panel discussion on updates and forecasting of changes related to PFAS titled "One Year Since EPA's PFAS Roadmap – Updates and Preparation for 2023". As highlighted in the segment above, Dr. Pagone focuses on the PFAS regulatory landscape as it pertains to updates since the release of the EPA PFAS Strategic Roadmap in October 2021.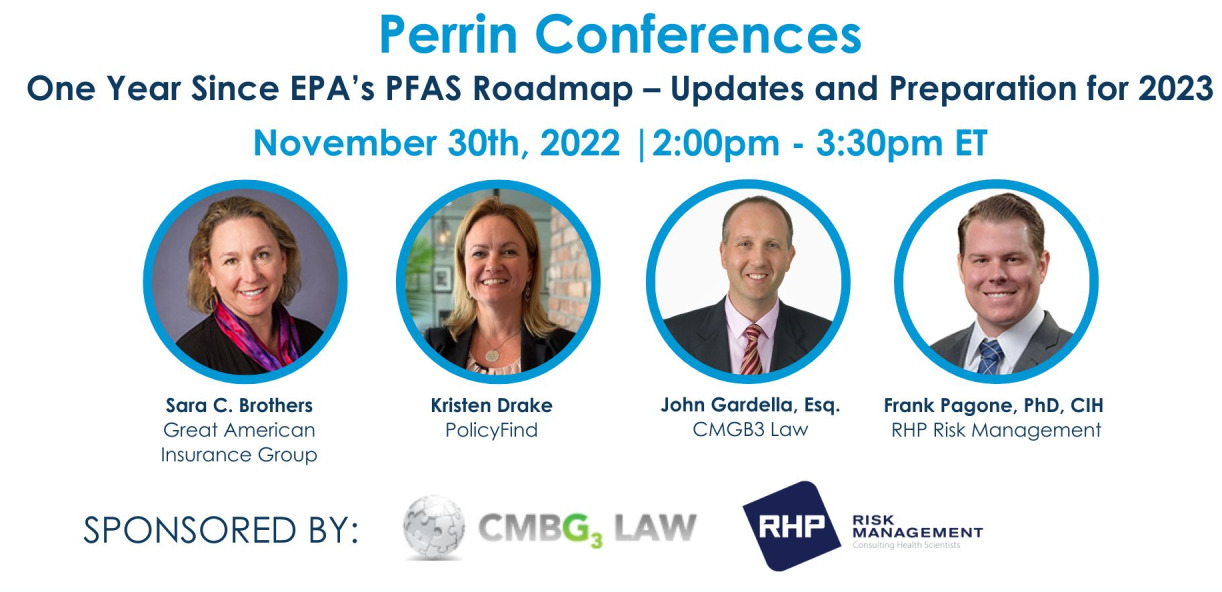 Frank Pagone, PhD, CIH
Frank Pagone has over 10 years of education, research, and EHS consulting. Dr. Pagone received his B.S. from Purdue University, his M.S. in Public Health – Industrial Hygiene and Ph.D. in Public Health from the University of Illinois at Chicago (UIC), and is certified by the American Board of Industrial Hygiene (ABIH) in the comprehensive practice of industrial hygiene (CIH). His graduate research topics included human health risk assessment including probabilistic risk assessment, exposure assessment and cancer risk analysis, spatial statistics, and Geographic Information Systems (GIS). He is also certified in Geospatial Analysis and Visualization with a focus on GIS.
Dr. Pagone provides support and execution of environmental health and safety services defining, analyzing, characterizing, assessing, and managing occupational and non-occupational risks to human health and the environment and conducts research of a variety of environmental health and safety topics. He has also consulted on data management and analysis including collection of population, health, employment, environmental risk/hazard, and housing data, taught a variety of topics including air and water quality and management, industrial hygiene, and statistics, and assisted with the evaluation of industrial point-source emissions to residential receptor sites in surrounding communities for purposes of assessing risk for both cancer and non-cancer endpoints.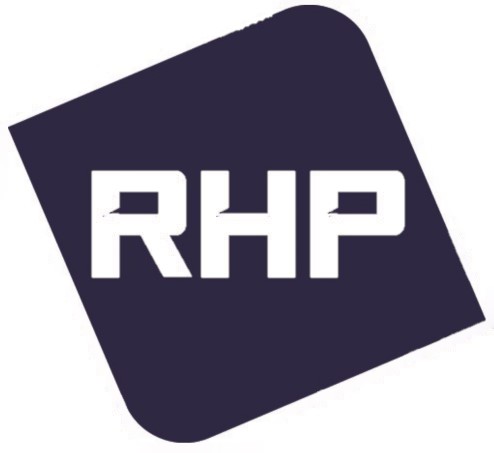 Scientific risk-based guidance and solutions you and your company can trust.
RHP Risk Management is a leader in the field of Industrial Hygiene, Indoor Air Quality (IAQ), Built Environment, Risk Management, Dose Estimation & Analysis, and Exposure Simulation Testing. Our highly trained and sophisticated team of professionals work together seamlessly on small and large projects. Our roster includes certified industrial hygienists, public health scientists, risk assessors, certified safety professionals, field staff, an engineer, an anthropologist, an economist, certified paralegals, and support staff.
We work with our clients to develop solutions to their most pressing concerns. Understanding exposures and risks through a grounding in a sound, defensible, state- of- the- art scientific approach gives our clients peace of mind. Empowered by a comprehensive understanding of exposures we can provide, clients are better equipped to recognize previously unseen business risks, manage known risks, target areas for control systems, comply with regulations, and to be braced for regulatory or litigation actions. Senior staff have served as experts in front of stakeholders, public, workers, regulatory, and State and Federal courts.
Transcript: Perrin Conferences Webinar: One Year Since EPA's PFAS Roadmap and Updates and Preparation for 2023 (November 30, 2022) – Frank Pagone
2:51-3:46:   Key Actions and Status Office of Chemical Safety and Pollution Prevention: Timeline / National PFAS Testing Strategy
"Key Actions presented for the office of chemical safety and Pollution Prevention included topics such as toxic substance control act or TSCA, a national PFAS testing strategy, a toxic release inventory reporting with an ongoing robust review for processes for new PFAS [slide 1]. Regarding the National PFAS testing strategy in TSCA, EPA issued its first test under the testing strategy in June 2022. For this first test order, EPA selected 6-2 Fluorotelomer sulfonate eptam, which is a chemical substance used to make commercial firefighting foam. Companies subject to the test order, may conduct the test as described in the order such as testing the physical chemical properties and health effects following exposures such as inhalation or provide EPA with existing information that they believe the EPA has not identified [slide 2]."
3:47-4:09: PFAS in Products
In March 2022, the EPA issued an open letter to manufacturers, processers, distributors, users, and those that dispose of fluorinated containers to raise awareness of PFAS formation and migration. Additional EPA issued a notice for public comment that would remove 12 chemicals identified as PFAS from the current list of improved inert ingredients.
4:10-4:28:Implementing Statutory Addition of Certain Per – and Polyfluoroalkyl Substances (PFAS) to the Toxic Release Inventory Beginning with Reporting Years 2021 and 2022
For the Fiscal year 2020, the National Defense Authorization Act immediately added 172 PFAS to the list of chemicals covered by the toxic release inventory or TRI. As an update to this list, 4 additional PFAS chemicals were added for each of the 2021 and 2022 reporting year.
4:29-4:58: Key Actions and Status: Office of Water
"Key actions presented for the office of water included expanding PFAS monitoring in drinking water publishing health advisories in toxicity assessments for PFAS chemicals and restricting PFAS discharges. In addition, they also listed monitoring aquatic life, establish a national primary drinking water regulation for PFOA, and publish updates for laboratory analytical methods."
4:58-5:39: Key Actions and Status: Expanding PFAS Monitoring in Drinking Water
On December 27, 2021, the 5th Unregulated Contaminant Monitoring Rule or UCMR 5 was published, and that will require samples to be collected at public water systems between 2023 and 2025 for 29 PFAS chemicals and lithium using analytical methods developed by the EPA and consensus organizations. The Safe Drinking Water Act requires that once every 5 years the EPA issue a list of unregulated contaminants to be monitored by public water systems. Note this is not the first time PFAS chemicals have been included in the UCMR as chemicals such as PFOA and PFOS were in UCMR 3."
5:42-6:03 –  Human Health Toxicity Assessments for GenX Chemicals
Shortly after the release of the PFAS strategic roadmap, EPA published a final human health toxicity  assessment for GenX chemicals which underwent both peer review and public comment. Currently PFOA, PFOS, and PFBS have toxicity values, while PFBA and PFXA are currently in their draft form.
6:04-6:50 – Addressing PFAS in National Pollutant Discharge Elimination System (NPDES) Permitting
In April 2022, EPA issued a memo addressing PFAS discharges and the EPA issued a National Pollution Discharge Elimination System (NPDES) permit. Federally issued permits, the EPA will include requirements to monitor for PFAS, requirements to use best management practices like product substitution and good housekeeping, and establish practices to address PFAS containing firefighting foams and stormwater. EPA also proposed the first clean water act, water quality aquatic life criteria for PFAS, focusing on PFOA and PFOS. And continues to work on long-term efforts to set a Nationwide technology based standard for certain PFAS discharges under the Effluent Limitation Guidelines program.
6:52- 7:50: New Drinking Water Health Advisories and Bipartisan Infrastructure Law Funding
 In June 2022, EPA released four drinking water health advisories for PFAS. As defined by the EPA, health advisories… identify with the concentration of contaminant in drinking water at which adverse health effects and / or aesthetic effects are not anticipated to occur over specific exposure durations. As you see in this table, with a list of summary of chemicals, you see the health advisories stated for PFOA, PFOS, GenX Chemicals, PFBS. Health advisories are non-regulatory and reflect EPA's assessment of the best available peer-reviewed science. Proposed drinking water maximum contaminant levels for PFOA and PFOS are expected in December 2022 with the final rule expected in December 2023.
7:50-8:05  State Drinking Water Regulations
 Absent MCLs for PFOA and PFOS, the regulatory landscape for PFAS compounds in drinking water consists of an array of widely-varying state-promulgated standards and regulations. And these values vary by state and can be found at the state level.
8:07 – 8:44: Contaminant Candidate List 5 – CCL 5
 The drinking water contaminant candidate list or CCL is a list of contaminants that are currently not subject to any proposed or promulgated national primary drinking water regulations but are known or anticipated to occur in public water systems. The EPA uses the CCL to identify priority contaminants for regulatory decision making and information collection. The final CCL5 list published on November 14 includes 3 chemical groups including PFAS, cyanotoxins and disinfection byproducts, as well as 66 individual chemicals and 12 microbs.
8:45-9:16 – Draft Method 1633
 The EPA's Office of Water, in partnership with the DOD, has published draft Method 1633. Which is a single laboratory validated method to test for 40 PFAS compounds in wastewater, surface water, groundwater, soil, biosolids, sediment, landfill leachate, and fish tissue. The office of water has encouraged laboratories, regulatory authorities and other interested parties to review and use the draft method with the understanding that this is subject to revision.
9:17- 9:57: Office of Land and Emergency Management [slide 1] / Initiation of Two Rulemaking Efforts under RCRA [slide 2]
Key actions presented for the office of chemical safety and pollution prevention included designation of certain PFAS chemicals as CERCLA hazardous substances and updating guidance on destroying and disposing of certain PFAS and PFAS-containing materials.
 In October 2021, in response to a petition by New Mexico governor EPA announced steps towards evaluating existing data for PFOA, PFOS, PFBS, and GenX under RCRA, and clarification of regulations that the RCRA corrective action program has the authority to require investigation and cleanup for waste that meet the statutory definition of hazardous waste.
 9:58- 10:52: Proposed Hazardous Substance Designation for PFOA and PFOS
 More recently, on August 26, 2022, EPA issued a proposal to designate 2 of the most widely used PFOA and PFOS as hazardous substances under CERCLA, or Superfund. Once finalized these designations as CERCLA hazardous substances, would require facilities across the country to report on PFOA and PFOS releases that meet or exceed the reportable quantity assignment to these substances, and enhance the ability for Federal, Tribal, Nation, State and Local authorities to obtain information regarding the location and extent of releases as well as allow the EPA and other agencies to respond to release or threats of release of PFOA and PFOS as hazardous substances without making a determination of imminent and substantial danger. The final rule is planned for August 2023.
 10:52 -11:13: Updated Destruction and Disposal Guidance
Prior to the release of the EPA Strategic Roadmap, the EPA released for public comment the new interim guidance on destroying and disposing of certain PFAS and PFAS containing materials that are not consumer products. Research continues on proper destruction and disposal  with the EPA required to publish  a final guidance by December of 2023.
11:14-12:04: Fire Suppressant used to extinguish flammable liquid fires
 Within the EPA interim destruction and disposal guidance liquid phase material such as aqueous film forming foam or AFFF, can be disposed through underground injection or destroyed through thermal treatment. However, incineration of PFAS and AFFF has been banned in multiple states and suspended by the DOD. Additionally the EPA also indicates these materials can be stored until additional studies on disposal techniques have been completed. This, of course, is likely going to need the increase in additional research on appropriate disposal or destruction techniques and alternative product considerations. Alternative firefighting materials include fluorine-free firefighting foams or dry chemical agents. Each with their own performance strengths and limitations, which should be considered before proceeding with an alternative.
12:05 – 12:15: Office and Air Radiation – Fall 2022
 The office of air and radiation continues to build technical foundations to address PFAS and air emissions and the foundation for clean air act regulations.
12:16- 12:34: Office of Research and Development
Key ongoing action items for the office of research and development include developing and validating methods to detect and measure PFAS, advance the science  to assess human health and environmental risk for PFAS and evaluate and develop technologies for reducing PFAS in the environment.
12:35 -13:02: Assess Human Health and Environmental Risks
A way to assess human health and environmental risks, the EPA has developed a systematic evidence map for 9,000 PFAS which was published in a peer-reviewed manuscript. The SEM, which is available online, is an interactive table that can be filtered to highlight health studies relative to specific PFAS chemistries. Shown in the image here, you see an example of the table as well as the publication.
13:04 – 13:44: Draft Absorbable Organic Fluorine Method
 In April, EPA's Office of Water published a draft method 1621, which is a single laboratory  validated method to screen for organic fluorine in wastewater. The method is a screening method because it does not quantify organic fluorenes with the same accuracy and some known interferences. Several pharmaceuticals and pesticides contain fluorine but don't meet the EPA's definition of PFAS. The method tells the user that organic fluorenes are present but does not identify which organic fluorenes are present. The strength of the method is that it can broadly screen for thousands of known PFAS at the parts per billion level in water samples.
13:45 – 14:08 – Adding Five PFAS to Contaminated Site Cleanup Tables
In May 2022, EPA also added 5 PFAS to a list of risk based values for site cleanups. These values, known as regional screening levels or Regional Remedial Management Levels, help the EPA determine if response or remediation activities are needed for Superfund and other agency programs to investigate contamination.
14:09 – 15:03 : Cross Program
 Key actions and timeframe presented across programs include engaging and educating the public, identifying PFAS categories, establishing a PFAS voluntary stewardship program which has already been established, and using enforcement tools to better identify and address PFAS releases. In January EPA issued information request letters to 3 PFAS manufacturers requiring that these companies provide information on their current and past PFAS production. In November, issued an administrative requiring manufacturer to sample and provide  treatment for PFAS contamination in drinking water  near the manufacturing facility. As of November 17, the EPA has published an annual progress report which identifies progress under the PFAS strategic roadmap.