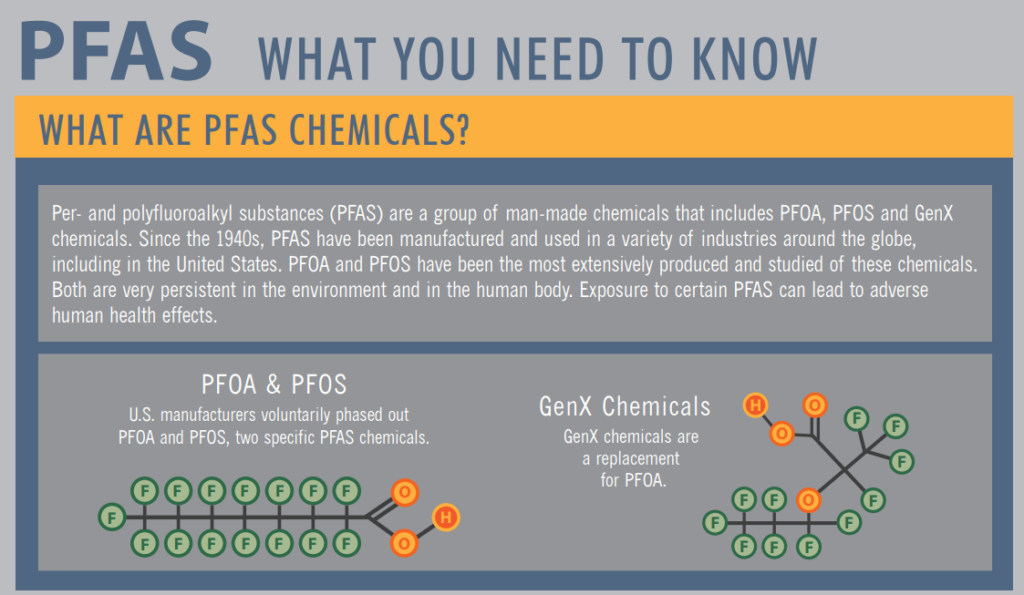 In recent months, reports of human exposure to PFAS through contaminated groundwater, soil, food packaging and other sources, have increased in the media and translated to public concerns. PFAS (per-and polyfluoroalkyl substances), first used in the 1940s, are a group of more than 5,000 manmade chemicals whose unique properties have historically made them desirable for use in a variety of industries and products in the United States. Exposure to PFAS has been linked to a number of adverse health effects in humans. The Biden Administration is currently moving the United States closer to developing standards for PFAS in drinking water, designating some PFAS chemicals as hazardous substances, and beginning the process of determining if other PFAS chemicals should be considered for designation.
Where can PFAS be Found?
Due to their unique properties, including water and oil resistance, PFAS have been manufactured and used in a variety of industries in the United States and can primarily be found in:
Food: packaged in PFAS-containing materials, processed with equipment that uses PFAS, or grown in PFAS-contaminated soil or water;
Household products: stain-and water-repellent fabrics, non-stick products, polishes, waxes, paints, cleaning products;
Fire-fighting foams: a major source of groundwater contamination at areas where firefighting training occurred, such as military airbases;
Drinking water: typically associated with a specific facility such as a manufacturer, landfill, wastewater treatment plant;
Living organisms: PFAS has the ability to build up a persist over time in fish, animals and humans;
Workplace: production facilities and industries which use PFAS, such as chrome plating, electronics manufacturing and oil recovery.
Because PFAS chemicals are bio-persistent, meaning they do not break down in the natural environment, they have colloquially been referred to as "Forever Chemicals".
Certain PFAS chemicals are no longer manufactured in the United States but are still produced internationally and can be imported in consumer goods such as carpet, textiles, leather and apparel, paper and packaging, coatings, rubber and plastics.
Exposure Pathways and Adverse Health Affects
PFAS chemicals can leach into soil and groundwater, released into the air, and be incorporated into products and food where they are used in packaging or where contaminated soil/groundwater are found in farming. The most common pathways through which humans may be exposed to PFAS are through consuming PFAS-contaminated water or food, and through the use of products that are made with some percentage of PFAS chemicals. Much of the population has likely had some level of exposure to PFAS, and certain PFAS can accumulate and remain in the human body. Those living in the United States can likely be found to have one or more specific mixtures of PFAS in their blood, especially PFOS and PFOA.
Links to PFAS exposure and adverse health effects, including reproductive, developmental, liver, kidney, and immunological effects, are increasingly coming to light. Current research indicates the most consistent findings among exposed populations are increased cholesterol levels that may lead to heart attacks and strokes, low infant birth weights, effects on the immune system, cancer and thyroid hormone disruption.
There are currently no Maximum Contaminant Levels (MCL) for PFAS, although the Environmental Protection Agency (EPA) has issued a health advisory for Perfluorooctanoic acid (PFOA) and Perfluorooctane sulfonic acid (PFOS).
Regulatory Efforts
During President Biden's campaign, he pledged to tackle PFAS pollution by "designating PFAS as a hazardous substance, setting enforceable limits for PFAS in the Safe Drinking Water Act, prioritizing substitutes through procurement, and accelerating toxicity studies and research on PFAS."  Numerous federal actions on PFAS have since been initiated by the Biden Administration, and in July 2021 the bill "HR 2467", also known as "the PFAS Act" was passed in the U.S. House of Representatives. The PFAS Act, when and if passed by the Senate, will require the USEPA to regulate PFAS use and the clean-up of PFAS contamination in the United States. Legislative proposals on the table include testing of PFAS toxicity in human health under Toxic Substances Control Act, the designation of PFOA and PFOS as hazardous air pollutants under the Clean Air Act and determining if other PFAS should be designated over the next five years.
Interim federal EPA recommendations for addressing PFOA and PFOS contaminated groundwater and for validating test methodology to test for 11 additional PFAS combinations known to be found in drinking water include:
$4.8 million in federal funding for new research on managing PFAS in agriculture and a directive to prioritize research on how this impacts agriculture and rural economies;
A supplemental proposal mandating certain persistent long-chain PFAS chemicals in surface coatings cannot be manufactured or imported into the United States without notification and review under the Toxic Substances Control Act (TSCA); and
EPA re-signing of the Advance Notice of Proposed Rulemaking for PFAS Manufacturers and Formulators, the creation of a new "EPA Council on PFAS", and a the re-proposal of the Fifth Unregulated Contaminant Monitoring Rule (CMR 5) to collect new data on PFAS in drinking water.
In addition to efforts on the Federal level, individual states have taken measures to address the regulation of PFAS specific in their states.
While federal and state actions have been primarily environmentally focused, employers should be aware of this developing regulatory landscape. PFAS chemicals are subjects of litigation including personal injury and property damage claims due to findings in company products or operations and the regulatory landscape regarding PFAS is rapidly expanding.  Manufacturers, distributors and employers would be wise to understand the emerging science and developing federal and state regulations.
At RHP Risk Management, we help our clients navigate the uncertainties associated with environmental and occupational hazards and risks and can assist with updating an employer's hazard communication program, chemical inventory document management, and hazard communication training to ensure regulatory compliance. Our staff of public health professionals are experienced and trained in recognizing, anticipating and controlling hazards. For more information on RHP's services and contact information, please contact Frank Pagone, PhD, CIH at fpagone@rhprisk.com, (773) 867-6011 or Ben Heckman, MPH, CIH at bheckman@rhprisk.com, (717) 706-3847 and visit rhprisk.com.