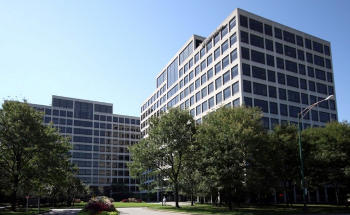 Chicago Office (U.S. Headquarters)
8745 W. Higgins Rd. Suite 320, Chicago, IL. 60631 | Phone # 773-867-6028
Located minutes from the Chicago O'Hare International Airport, at the intersection of Higgins Rd. (Rt 72) and N. East River Rd. the O'Hare Plaza is the location of the headquarters of RHP Risk Management Inc. From this location we are a short 15 minute drive to the RHP Exposure Sciences Laboratory, a state of the art laboratory, where our scientists evaluate the exposure and risk associated with the use of and work with materials, products, and machinery.
Directions & Information
The headquarters for RHP Risk is located along the Kennedy Expressway (90) and minutes (east) of the 294/190/90 interchange. The Chicago RHP office is located 15 miles northwest of the Chicago downtown Loop.
Chicago Industrial Hygienist
Industrial hygiene involves anticipating, recognizing and evaluating various workplace health risks, including hazards related to air contaminants and dangers associated with biological, chemical, physical and ergonomic stressors. Good industrial hygiene reduces operational costs and minimizes liability in the workplace, and it is critical for supporting employee morale and maintaining your organization's reputation.
RHP Risk Management's dedicated team of Certified Industrial Hygienists (CIHs), Public Health Scientists and Certified Safety Professionals (CSPs) offer decades of combined experience in regulatory assessments, environmental evaluations and safety solutions to prevent and control workplace hazards at your Chicago business.
Exposure Assessments From a Certified Industrial Hygienist in Chicago
RHP's industrial hygiene exposure assessments focus on identifying potential workplace hazards, including risks involving fumes, chemicals, noise and ergonomics. Our consultants will help you develop cost-effective solutions to protect your company's workforce and maintain compliance, including recommending the proper personal protective equipment (PPE) for employees.
The assessments we offer include:
Fume: These assessments identify the hazards of fume exposure during brazing, cutting and welding. Our fume extraction efficiency testing involves assessing capture efficiency at an emissions source, measuring airflow, evaluating local exhaust ventilation (LEV) and conducting personal air sampling.
Noise: RHP's noise assessments identify the high-noise areas and operations that could potentially cause noise-induced hearing loss (NIHL). Our solutions reduce overall exposure while meeting National Institute for Occupational Safety and Health (NIOSH) noise compliance requirements.
Lead: Occupational Safety and Health Administration (OSHA) standards for general industry, construction and shipyards require employers to protect workers from inorganic lead exposure. These standards apply to operations where any amount of inorganic lead is present.
Heat stress: The Centers for Disease Control and Prevention (CDC) outlines the potential risks of heat stress in the workplace, including heat stroke, exhaustion, dizziness and cramps. Our certified hygienists can assess these hazards in various settings, including boiler rooms, smelting areas and other spaces involving excessive heat.
Types of Industrial Safety Services RHP Offers
RHP provides the following safety consulting services for industries in Chicago and the surrounding region:
Asbestos: Our asbestos consulting services involve building inspections, facility audits, air sampling, abatement project management and other programs to keep your organization compliant with local, state and federal regulations and standards.
Lockout and tag-out program (LOTO): With these services, we assist with developing strategies to comply with OSHA LOTO standards, which establish requirements for employers when workers face hazardous energy exposure during equipment maintenance and service.
Ergonomics: RHP ergonomic evaluations monitor physical tasks in industrial and office settings involving lifting, walking, sitting, pushing and reaching to determine the most effective mitigation strategies.
Helping Your Company Develop an Environmental Health and Safety Plan
RHP's certified industrial hygienists work with Chicago businesses to evaluate existing programs or create new easy-to-implement procedures to ensure safety and compliance with NIOSH strategies and criteria. These programs include:
OSHA compliance audits: RHP's consultants perform third-party assessments to help employers prepare for OSHA inspection and compliance audits.
Chemical Hygiene Plans (CHP): The RHP team helps clients develop a Chemical Hygiene Plan indicating the responsibilities, policies and procedures to protect employees from hazardous chemical health risks.
Hazard Communications (HazCom): RHP enables clients to create new or modify existing programs showing how they will meet Hazard Communication Standard (HCS) requirements through hazardous material labels, safety data sheets (SDS) and employee training.
Fit testing for PPE: RHP helps employers establish training for employees regarding PPE, including when it is necessary, the type of PPE required, how to apply or wear it, its limitations, and the proper care and maintenance. Our team regularly conducts Quantitative Fit Testing (QNFT) and Qualitative Fit Testing (QLFT) for companies wanting to ensure the correct PPE and fit for their employees. Before any employee wears a respirator on the job, OSHA requires fit testing under Respiratory Protection Standard 29 CFR 1910.134.
Industries We Serve
RHP's professional team has extensive environmental health and safety expertise in compliance at the local, state and federal levels. We have decades of hands-on experience working with business owners, safety managers and operations managers to address issues and solve problems. Our team can conduct evaluations, surveys and audits for your Chicago business while helping establish best-practice processes in areas like:
Real estate
Industrial and construction
Aviation
Manufacturing and commercial
Public buildings
Transportation
Railroads
Agriculture
Entertainment
Contact RHP Risk Management Today
At RHP Risk Management, we prioritize helping our clients develop solutions for health and safety concerns while meeting industry regulations. We leverage innovative, scientifically proven approaches with decades of experience to address and mitigate the risks that employees face in the workplace. Contact us online today to learn more and find an industrial hygienist near you.