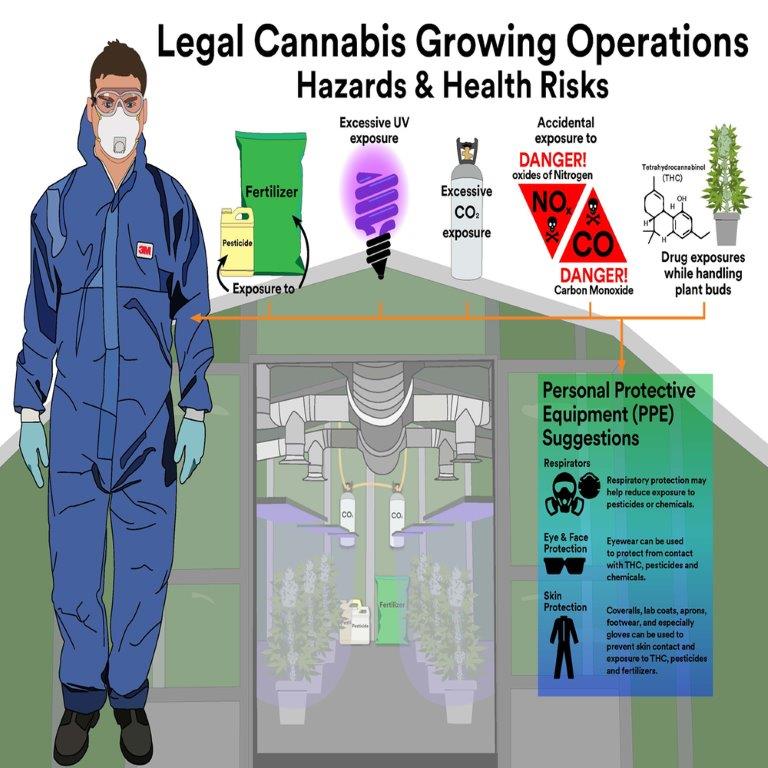 Are you a cannabis cultivator, processor, or involved in another part of the legal cannabis industry? Even though the Federal government does not recognize the legality of cannabis, OSHA still has jurisdiction to check cannabis worksites (agricultural, processing, and retail) and cite companies for workplace violations. Is your cannabis business prepared for a visit from OSHA?
Some of the most common citations relate to Employee Personal Protection Equipment (PPE).
Cannabis cultivation and processing businesses should first perform a hazard assessment to identify potential hazards for their employees. Cannabis cultivation and processing employers need to train employees of the proper use of PPE that will protect them from on-the-job hazards, including chemical burns, loud noises, biological hazards, equipment hazards, and exposure to UV light.
Protective clothing should be designed to protect against potential workplace hazard, shielding against particulates and chemicals. Prior to being issued, employers need to fit test an employee's respiratory protection and know what chemicals and concentrations their employees are being exposed to.
If a process or work practice changes, the employer should re-evaluate PPE needs to determine if the existing PPE program remains suitable and protective for the employees. Failure to have a compliant PPE plan in place can result in an OSHA violation that is avoidable. RHP Risk Management can help your business develop a health and safety plan, including employee PPE protection.
RHP Risk helps our clients access risk in the workplace, especially risk as related to OSHA standards, and mitigate that risk and increase safety. We can help you be prepared for a visit from OSHA and help avoid them altogether by helping you create a safe work environment and protect your workers' health and safety. If you are interested in RHP Risk Management's health and safety services related to the cannabis industry, visit: https://rhprisk.com/cannabis/ or call Jason Lang, CIH, CSP at (773) 867-6002.