Join RHP at Upcoming Conferences: 
2023 Construction Expo & Safety Conference
March 6-7, 2023 in Oakbrook Terrace, IL
RHP's Rod Harvey, P.E., CIH, CSP, CHMM is scheduled to speak on Tuesday, March 7 from 10:15am-11:15am on "Silica Safety: It's Still a Thing".
– The dangers of worker exposure to respirable crystalline silica are as real as ever. Although seven years have passed since a new standard was put into effect, there is much to learn – and to be reminded of – regarding an employer's responsibility to protect employees' health and livelihood. Register for the 2023 Construction Expo & Safety Conference
Watch Past Webinars & Listen to Podcasts: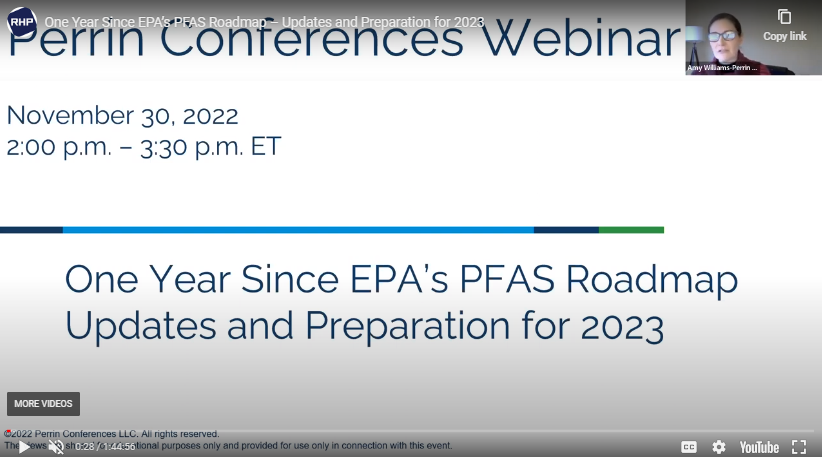 Perrin Conferences Webinar: One Year Since EPA's PFAS Roadmap – Updates and Preparation for 2023
On Wednesday, November 30, 2022, RHP's Frank Pagone, PhD, CIH joined industry experts for a panel discussion on updates and forecasting of changes related to PFAS titled "One Year Since EPA's PFAS Roadmap – Updates and Preparation for 2023". As highlighted in the segment above, Dr. Pagone focuses on the PFAS regulatory landscape as it pertains to updates since the release of the EPA PFAS Strategic Roadmap in October 2021.
Click to watch "One Year Since EPA's PFAS Roadmap – Updates and Preparation for 2023"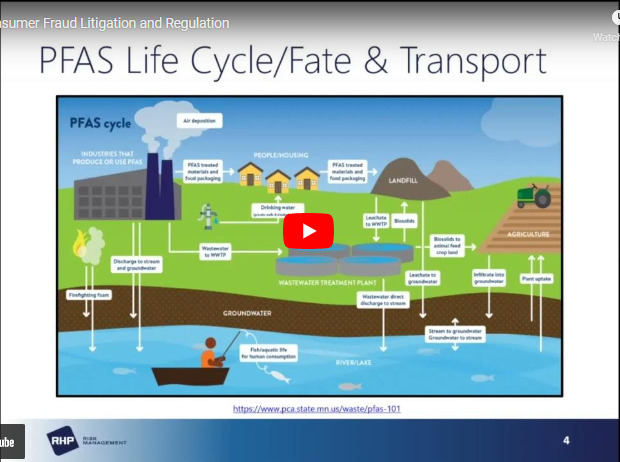 HB Litigation Conferences: PFAS Consumer Fraud Litigation and Regulation
On August 26, 2022, yet another PFAS consumer fraud lawsuit was filed against a product manufacturer in which it is alleged that since the products contained PFAS and the company marketed the products as environmentally friendly and safe for use by consumers, a proposed class of consumers was deceived into buying the allegedly unsafe products. The lawsuit is not an isolated incident, as there have been over 20 such lawsuits, almost all of them filed in 2022. With the ever-increasing media, political and scientific attention being given to PFAS, the panelists predict that these lawsuits will continue to increase at an exponentially increasing rate moving forward against companies of all sizes that manufacture and supply products. Bringing together almost 20 years of product litigation experience and decades of scientific expertise in the field of chemicals such as PFAS, the panelists will discuss the legal issues that companies are facing from current or legacy uses of PFAS (whether intentional or not) and practical solutions that can be taken pre-lawsuit to understand and minimize risk.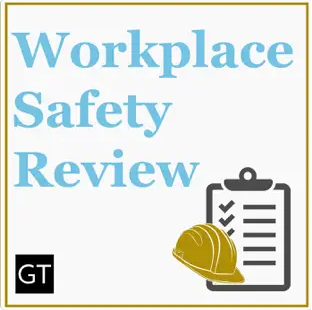 Heat Hazards in the Workplace and OSHA – Workplace Safety Review Podcast
RHP's Rod Harvey was a guest on the Workplace Safety Review podcast where he was interviewed by Michael T. Taylor and Adam Roseman of Greenberg Traurig on OSHA's National Emphasis Program related to heat hazards, effective employer prevention strategies, controls, training and occupational heat stress litigation.
Click to listen to "Heat Hazards in the Workplace and OSHA" podcast