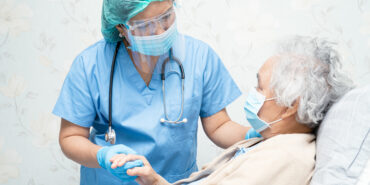 On June 10, 2021, the Occupational Safety and Health Administration (OSHA) circulated a news release announcing the U.S. Department of Labor's much awaited COVID-19 Emergency Temporary Standard ("ETS"). With some surprise on the limited scope, the ETS focuses on healthcare and healthcare support service workers with the highest likelihood of close contact with individuals infected with COVID-19 and where individuals with active COVID-19 are reasonably expected to be present.
The ETS is effective immediately upon publication in the Federal Register. This emergency standard covers employers who must comply with many of its provisions within 14 days of the publication, and with other provisions such as physical barriers, ventilation, and training within 30 days of the publication. OSHA will use its discretion for employers who are demonstrating a visible good faith effort to comply with the ETS under the timeframe.
Exemptions include certain workplaces where all employees are fully vaccinated and individuals with possible COVID-19 are prohibited from entry; and it exempts from some of the requirements of the standard fully vaccinated employees in well-defined areas where there is no reasonable expectation that individuals with COVID-19 will be present.
The ETS comes following the OSHA National Emphasis Program (NEP) that was issued in March 2021 focusing on 21 primary target industries and 32 secondary target industries classified and identified by OSHA as "high-hazard industries" and increased risk of exposure to COVID-19 by workers. The classified and identified industries included retirement communities, assisted living facilities and nursing care facilities.
Settings covered by the OSHA COVID-19 ETS
OSHA's COVID ETS applies only to settings where employees provide healthcare services or healthcare support services. These include hospitals, nursing homes, assisted living facilities, emergency response, and some home healthcare environments. OSHA has provided a flow-chart for employers to determine if the COVID ETS applies to their healthcare services.
OSHA has also published voluntary guidance for other industries.
Complying with the OSHA COVID-19 ETS
During the period of the ETS, classified healthcare employers must develop and implement a COVID-19 plan to identify and control infectious risk hazards in the workplace. Employers must further implement requirements that reduce transmission of COVID-19 in their workplaces, related to the following: patient screening and management; Standard and Transmission-Based Precautions; employee personal protective equipment (PPE) including facemasks or respirators; controls for aerosol-generating procedures on a person with suspected or confirmed COVID-19; development and implementation of administrative controls including physical distancing of at least six feet, when feasible, and physical barriers; cleaning and disinfection; validation of existing heating, ventilation, and air conditioning (HVAC) systems; employee health screening and medical management; training; anti-retaliation; COVID-19 log and recordkeeping; and reporting COVID-19 fatalities and hospitalizations to OSHA. The standard encourages vaccinations by requiring employers to provide reasonable time and paid leave for employee vaccinations and possible side effects. It also encourages the use of respirators, where respirators are used in lieu of required facemasks, by including a mini respiratory protection program to their respective training and procedural policies.
Development of a COVID-19 plan under OSHA ETS
If a healthcare service or healthcare support service employer has more than 10 employees, a COVID-19 plan must be written and must seek the input and involvement of non-managerial employees and their representatives (if any) in the hazard assessment and the development and implementation of the COVID-19 plan. The employer must conduct a workplace-specific hazard assessment to identify workplace hazards related to COVID-19.
If the healthcare service or support service employer has more than one workplace, then they must develop and implement a COVID-19 plan for each workplace. If there are multiple workplaces that are substantially similar, their COVID-19 plan may be developed by workplace type rather than by individual workplace so long as all required site-specific information is included in the plan.
For those employers who do not already have a COVID-19 plan in place, RHP Risk Management works closely with clients to develop customized COVID-19 plan which provides the comfort and assurance needed to return to the workplace, protecting workers, clients, and customers from the risk of infection, and strengthen your company brand and reputation.
Once developed and implemented, the healthcare service or healthcare support service employer must monitor each workplace to ensure the ongoing effectiveness of the COVID-19 plan and updated as needed.
Employee use of Personal Protective Equipment (PPE)
The OSHA COVID-19 ETS requires employers to provide healthcare service and healthcare support service employees with and ensure employees wear facemasks that properly fit over the nose and mouth when indoors and when occupying a vehicle with other people for work purposes. The employer must provide a sufficient number of facemasks to each employee and must ensure that each employee changes them at least once per day, whenever they are soiled or damaged, and more frequently as necessary (e.g., patient care reasons). Where a face shield is required or desired, the employer must ensure that the face shields are cleaned at least daily and are not damaged.
RHP Risk Management's occupational health and safety professionals regularly perform Quantitative Fit Testing (QNFT) and Qualitative Fit Testing (QLFT) for employers to comply with OSHA standards. RHP's onsite respirator face fit testing is an efficient process that can take place at your facility or business location and allows for flexibility to fit test any number of employees on a single shift or over multiple shifts. Fit testing is imperative to ensure a tight-fitting respirator properly fits onto an employee's face, creating a secure seal, effectively reducing the risk or exposure to airborne contaminants.
A mini respiratory protection program is designed to improve worker protections with limited provisions for the safe use of respirators that can be implemented more quickly and easily than the more comprehensive respiratory protection program required by the Respiratory Projection standard (e.g., medical evaluation, fit testing). A mini respiratory protection program (29 CFR 1910.504) applies only to specific circumstances specified under the ETS, generally when workers are not exposed to suspected or confirmed sources of COVID-19 but where respirator use could offer enhanced worker protection. The mini respiratory protection program does not replace or substitute OSHA's Respiratory Protection Standard (29 CFR 1910.134), which applies to:
Circumstances under the ETS when workers are exposed to suspected or confirmed sources of COVID-19.
Any other workplace hazards that might require respiratory protection (e.g., silica, asbestos, airborne infectious agents such as Mycobacterium tuberculosis).
Aerosol-generating procedures on a person with suspected or confirmed COVID-19
The OSHA COVID-19 ETS focuses on reducing the risk of transmission during medical procedures that generate aerosols which may be infectious and are of a respirable size. When an aerosol-generating procedure is performed on a person with suspected or confirmed COVID-19, the healthcare service and healthcare support service employer must limit the number of employees present during the procedure to only those essential for patient care and procedure support; and must ensure that the procedure is performed in an existing "AIIR" (airborne infection isolation room), if available. The OSHA COVID-19 ETS defines an "AIIR" as a dedicated negative pressure patient-care room, with special air handling capability, which is used to isolate persons with a suspected or confirmed airborne-transmissible infectious disease. AIIRs include both permanent rooms and temporary structures (e.g., a booth, tent or other enclosure designed to operate under negative pressure).
The OSHA COVID-19 ETS states where an employer has an existing "AIIR", the employer must maintain and operate it in accordance with its design and construction criteria.
Verification of Existing HVAC Systems
Under the OSHA COVID-19 ETS employer-owned or controlled existing HVAC systems are required to be used in accordance with the manufacturer's instructions and design specifications for the systems; the amount of outside air circulated through its HVAC system(s) and the number of air changes per hour are maximized to the extent appropriate; all air filters are rated Minimum Efficiency Reporting Value (MERV) 13 or higher (if compatible with the HVAC system(s)); all air filters are maintained and replaced as necessary to ensure the proper function and performance of the HVAC system(s); and all intake ports that provide outside air to the HVAC system(s) are cleaned, maintained, and cleared of any debris that may affect the function and performance of the HVAC system(s).
OSHA states improvements to existing ventilation and validating optimal performance of ventilation is an effective way to reduce viral transmission of any kind including COVID-19. Work sites with existing HVAC systems can utilize improvements to, and maintenance of, high performance ventilation as part of a layered response for infectious disease control. The effectiveness of ventilation in controlling disease transmission is based on scientific research and recommendations of recognized organizations and professionals, including government agencies.
RHP Risk Management continues to work closely with healthcare employers and healthcare support service to assess ventilation system performance in buildings and use cutting-edge technology like DNA-tagged aerosol tracers, to directly measure how well a building performs to reduce indoor spread of infectious aerosols; providing objective evidence that demonstrates the benefits and efficacy of risk reduction efforts, and positions you for regulatory compliance and a healthy workplace.
OSHA ETS Facts and Questions (FAQ)
OSHA has provided a FAQ page to help employers better understand their compliance responsibilities under the COVID-19 ETS. OSHA anticipates updates to this COVID-19 ETS as new information becomes available.
RHP's Certified Industrial Hygienists, Health Scientists, and Certified Safety Professionals employ their experience and training to advise and guide industry and business leaders in navigating the uncertainties and challenges presented during and after the COVID-19 pandemic. RHP utilizes knowledge and expertise combined with our experience interpreting and incorporating the regulations and guidance of Federal, State, and local agencies and leading Public Health and institutional resources, to facilitate client responses to the rapidly evolving pandemic concerns of COVID-19. RHP experts are a trusted source for managing, mitigating, and controlling health risks in the workplace through the anticipation, recognition, evaluation, and control of environmental and occupational hazards.