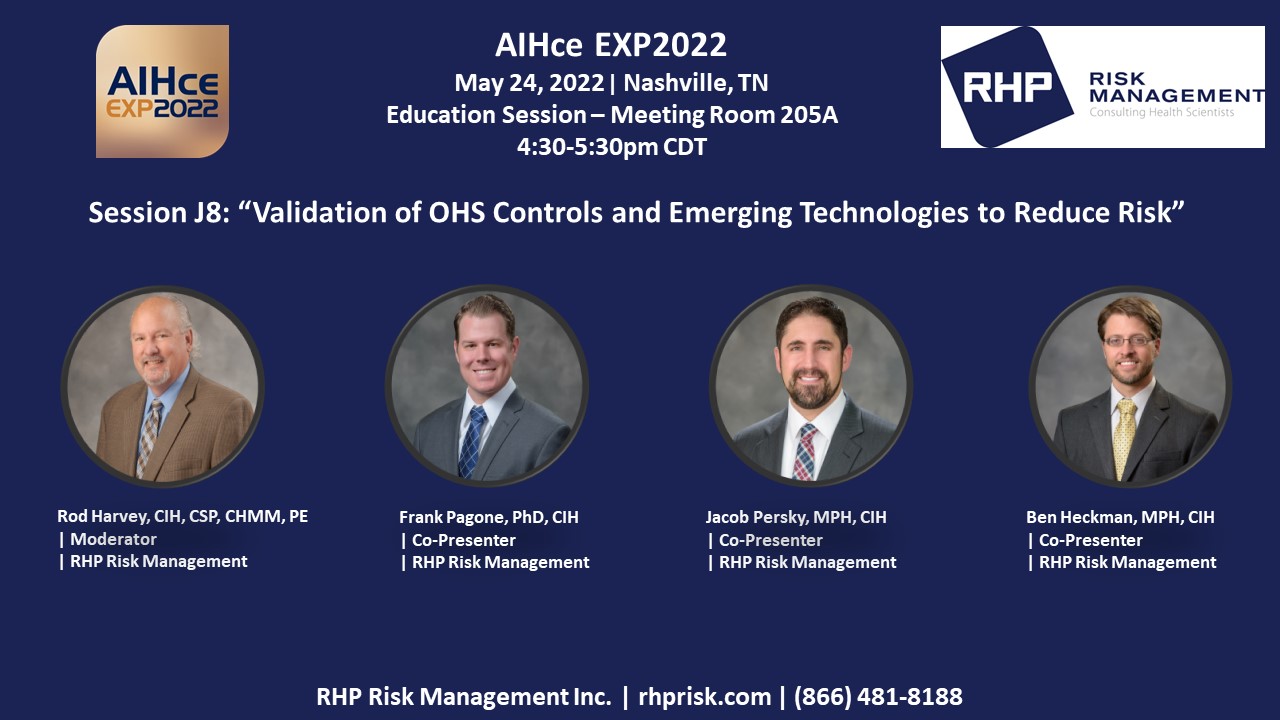 On Tuesday, May 24, 2022, RHP Risk Management industry professionals will be hosting a panel on controls and technologies at the American Industrial Hygiene Association (AIHA) annual conference, AIHce EXP2022 in Nashville, TN.
Rod Harvey, CIH, CSP, CHMM, PE will moderate a panel "Validation of OHS Controls and Emerging Technologies to Reduce Risk" for speakers, Frank Pagone, PhD, CIH, Benjamin Heckman, MPH, CIH and Jacob Persky, MPH, CIH.
The speakers will focus on important trends, research, technologies, training, and connections that make occupational health and safety (OHS) professions more efficient in their pursuit of protecting worker health. Specifically, the panel will lead listeners to current best practice guidance and recommendations for validating OHS control performances to reduce risk of transmission of SARS-CoV-2 and discuss the conventional and new technologies for evaluating OHS controls focused on reducing risk for COVID-19 transmission, and ways building managers and engineers can improve indoor environment quality through emerging technologies (e.g., such as DNA-tagged liquid aerosol testing).
Session J8: Validation of OHS Controls and Emerging Technologies to Reduce Risk
Tuesday, May 24, 4:30-5:30pm CDT
Education Session
Nashville, TN – Music City Center
Meeting Room 205A
Click here to register for AIHce EXP2022
RHP's group of Certified Industrial Hygienists and Certified Safety Professionals provide environmental health and safety solutions for you throughout the Nation's workplaces. We partner with our clients in managing, mitigating, and controlling health risks in their workplaces through the anticipation, recognition, evaluation, and control of environmental and occupational hazards. Contact RHP Risk Management for an initial consultation or call (866) 481-8188.