Industrial and manufacturing facilities, with their variety of processes and inherent hazards, may increase a worker's exposure risk. Industrial and manufacturing employers are legally required to keep their employees and anyone who might be affected by their business safe from harm and this may include contractors and customers.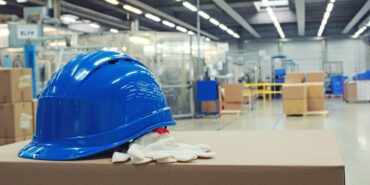 Business owners, premises owners and employers can be overwhelmed with the demands of being Federal, State and local regulatory compliant. The need to capture and understand data for their industry or business could lead even the most sophisticated leader down a rabbit-hole. A regulatory and environmental evaluation, audit and survey can provide the knowledge and data to determine workplace and workforce compliance. RHP Risk Management's Certified Industrial Hygienists (CIHs) and Certified Safety Professionals (CSPs) provide employers with environmental health and safety solutions for everything from routine compliance issues to challenging and unanticipated events and employers.
After an audit RHP works with business owners to develop new or modify existing Health and Safety plans, Hazard Communication plans, Emergency Action plans, Infectious Disease plans, and Fire Prevention plans that when implemented, gives management the understanding and records to keep a business within OSHA compliance and provide employee comfort as to safety and health. Plans should include clear guidance on facility protocols on personal protective equipment (PPE), lockout/tagout (LOTO), machine guarding, noise, heat stress, fall protection / overhead hazards, powered industrial trucks, loading dock safety, and ventilation.
Health and Safety Programs
The goal of any well done and compliant health and safety program is to prevent workplace injuries, illnesses,  or fatalities. The benefits of developing and implementing a health and safety program include improvements in product, process, and service quality, increased worker happiness and  morale, improved employee recruiting and retention, and a more favorable image and reputation (among customers, suppliers, and the community).
Among the health and safety plans OSHA requires for manufacturing and industrial facilities are emergency action plans, fire prevention plans, personal protective equipment procedures, control of hazardous energy and management, and machine guarding and LOTO.  OSHA's 1989 Safety and Health Program Management Guidelines can be used as a blueprint to assist manufacturing and industrial facilities to develop and implement a health and safety program. This blueprint highlights 7 core elements: Management Leadership; Worker Participation; Hazard Identification & Assessment; Hazard Prevention & Control; Education & Training; Program Evaluation & Improvement; Communication and Coordination for Host Employers, Contractors, and Staffing Agencies.
Hazard Communication Plan
OSHA requires (1910.1200) all employers with hazardous chemicals in their workplaces and chemical manufacturers and importers to have a Hazard Communication plan under the Hazard Communication Standard (HCS). A hazard communication plan needs to direct employers to gather and maintain  as much information that covers  all hazardous chemicals used, stored or produced within their facility, such as identifying the classification of chemicals, proper labeling, maintaining safety data sheets (SDSs) and providing comprehensive training for employees of the hazardous chemicals and threats posed.
Emergency Action Plan (EAP)
OSHA standards 1910.38 (emergency action plan) and 1910.157 (portable fire extinguishers) state a manufacturing and industrial facility must have an emergency action plan (EAP) if the workplace requires or provides a fire extinguisher, and if anyone would be evacuating during a fire or other emergency.
Employers who are required to write an EAP and keep a EAP current in  a workplace  must make it accessible to employees for review. Employers with 10 or fewer employees may communicate the plan orally to employees.
An EAP must, at minimum, include: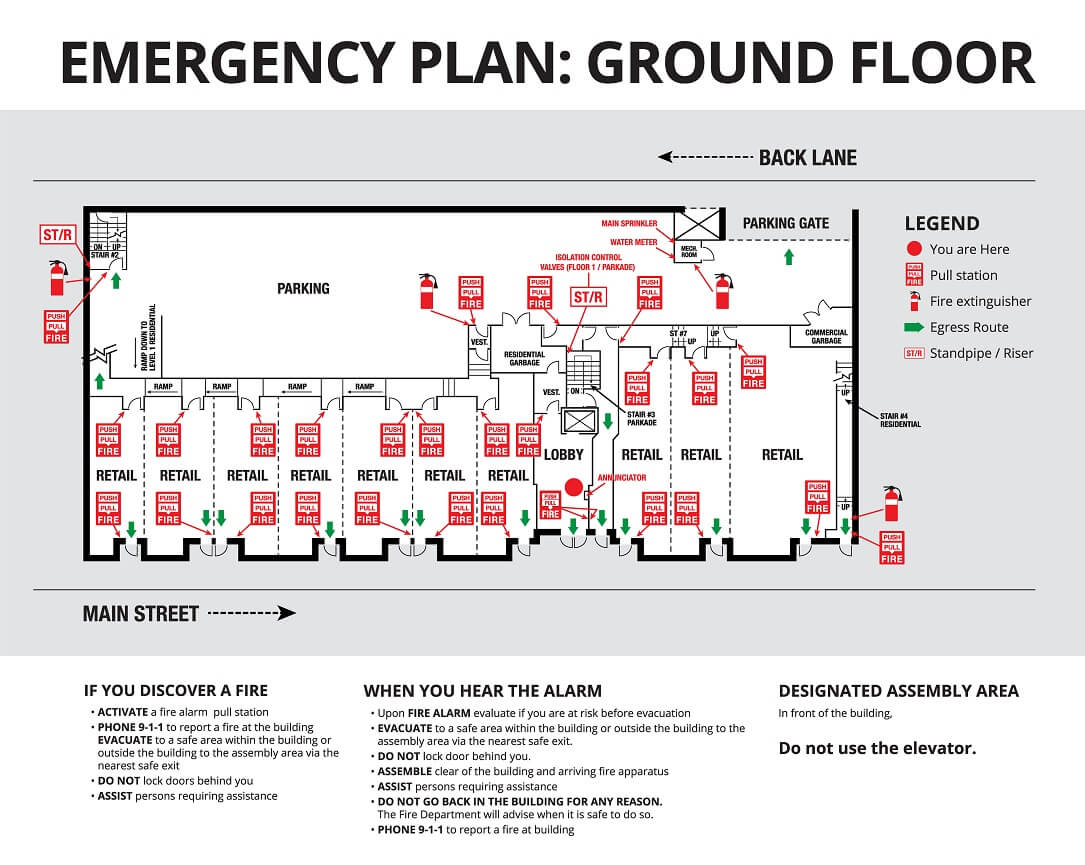 Procedures for reporting a fire or other emergency;
Procedures for emergency evacuation, including type of evacuation and exit route assignments;
Procedures to be followed by employees who remain to close out critical plan operations before they evacuate;
Procedures to account for all employees after evacuation;
Procedures to be followed by employees performing rescue duties; and
The name or job title of every employee who may be contacted by employees who need more information about the plan or an explanation of their duties under the plan.
As part of an EAP, an employer must have and maintain an employee alarm system. The employee alarm system should use a distinctive signals for each purpose and comply with the requirements in 1910.165.
An employer must review the EAP with each employee covered by the plan when the plan is developed or the employee is assigned initially to the job; when the employee's responsibility under the plan changes; and when the plan is changed.
Fire Prevention Plan (FPP)
OSHA (1910.39) states, when applicable, an employer's fire prevention plan (FPP) should address fire safety for employees and evaluate the possible hazards in their facility. OSHA strongly recommends that all employers have a FPP. The following OSHA standards require FPPs: workplaces that contain Portable Fire Extinguishers (1910.157); Ethylene Oxide (1910.1047); Methylenedianiline (1910.1050); and/or Butadiene (1910.1051).
FPPs must be in writing, kept in the workplace, and made available to employees for review. Similar to the EAP, an employer with 10 or fewer employees may communicate the plan orally to employees. A fire prevention plan must include:
A list of all major fire hazards, proper handling and storage procedures for hazardous materials, potential ignition sources and their control, and the type of fire protection equipment necessary to control each major hazard;
Procedures to control accumulations of flammable and combustible waste materials;
Procedures for regular maintenance of safeguards installed on heat-producing equipment to prevent the accidental ignition of combustible materials;
The name of job title of employees responsible for maintaining equipment to prevent or control sources of ignition or fires; and
The name or job title of employees responsible for the control of fuel source hazards.
An employer must inform employees upon initial assignment to a job of the fire hazards to which they are exposed. An employer must also review with each employee those parts of the FPP necessary for self-protection.
Personal Protective Equipment (PPE)
The OSHA personal protective equipment (PPE) standard (1910.132(d)) requires employers in general industry to conduct a hazard assessment to determine the appropriate PPE, if any, to be used to provide protection  from the hazards identified in the assessment. Employers are required to protect employees who have potential exposures with the approved PPE eyes, face, head, and extremities, protective clothing, respiratory devices and protective shields and barriers wherever it is necessary by reason of hazards of processes or environment, chemical hazards, radiological hazards, or mechanical. Further, employers are required to also provide and maintain PPE in a sanitary and reliable condition.
OSHA (1910.132(f)) requires employers to train each employee who is required to use PPE. Each such employee must be trained to know when PPE is necessary, what PPE is necessary, how to properly don, doff, adjust, and wear PPE; the limitations of the PPE; and the proper care, maintenance, useful life and disposal of the PPE. Each affected employee needs to demonstrate an understanding of the training before being allowed to perform work requiring the use of PPE.
OSHA's respiratory protection standard (1910.134) states if employees are required to wear respirators, employers need to do annual respirator fit tests to ensure their equipment meets safety standards. A respirator fit test tests the seal between a person's face and their respirator's facepiece.
Control of Hazardous Energy Standard (Lockout/Tagout)
The OSHA standard (1910.147) for the Control of Hazardous Energy (Lockout/Tagout) addresses a manufacturing and industrial facility's practices and procedures necessary to disable machinery or equipment and prevent the release of hazardous energy while employees or contractors perform servicing and maintenance activities, and adding a tag with the name of the person who carries the key to the lock. The Control of Hazardous Energy standard outlines measures for controlling hazardous energies relating to electrical, mechanical, hydraulic, pneumatic, chemical, thermal, and other energy sources.
A written lockout/tagout (LOTO) procedure should include maintenance tasks or activities to machinery, covering the setup, installation, removal, maintenance, operation, adjusting, cleaning, troubleshooting, and programming. Procedures should also cover equipment connected to any hazardous machinery. All employees who are authorized to lockout machines or equipment and perform the service and maintenance operations need to be trained in the recognition of hazardous energy sources in the workplace, the type and magnitude of energy, and the means and methods of isolating and/or controlling the energy.
Machine Guarding
OSHA's machine guarding standard (1910.212(a)) requires equipment (such as guillotine cutters, shears, alligator shears, power presses, milling machines, power saws, jointers, portable power tools, forming rolls and calendars, revolving drums, barrels, containers and anchoring fixed machinery) within manufacturing and industrial facilities to have specific machine guarding processes in place to protect from hazards such as those created by point of operation, ingoing nip points, rotating parts, and flying chips and sparks. OSHA requires safeguards to be affixed to the machine where possible and secured elsewhere if for any reason attachment to the machine is not possible. Safeguards include barrier guards, electronic safety devices (light curtains), and two-hand tripping devices.
OSHA states it is essential for any worker who uses hazardous machines to undergo specific and detailed training in the following:
A description and identification of the hazards associated with particular machines;
The safeguards themselves, how they provide protection, and the hazards for which they are intended;
How to use the safeguards and why;
How and under what circumstances safeguards can be removed, and by whom (in most cases, repair or maintenance personnel only);
When a lockout/tagout program is required;
What to do (e.g. contact the supervisor) if a safeguard is damaged, missing, or unable to provide adequate protection.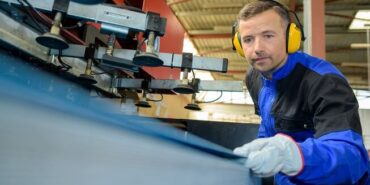 OSHA regulates general industry exposure to noise (1910.95) and establishes a Permissible Exposure Limit (PEL for noise and 90dBA (decibel, A-weighted) as an 8-hr TWA and Action Level (AL) at 85 dBA 8-hr TWA. Exposure to impulsive or impact noise should not exceed 140 dB peak sound pressure level. Employees with noise exposures equal to or exceeding the AL must be included in a Hearing Conservation Program (HCP).
Manufacturing and industrial facilities should measure and evaluate their existing engineering controls and if necessary, consider using equipment that does produce less noise, maintain and lubricate machinery, and require employees to use approved PPE (ear plugs, etc.).  Administrative controls may be evaluated for change of workspace or procedures (use louder equipment with less people around, limit exposure time to loud equipment, give workers a quiet area to recover, and keep loud equipment further away).
Heat Stress
Under the OSHA General Duty Clause employers are required to provide their employees with a place of employment that "is free from recognized hazards that are causing or likely to cause death or serious harm to employees", including heat-related hazards that are likely to cause death or serious bodily harm. There are a few states that have their own standards for heat exposure, including California, Minnesota and Washington.
The National Institute for Occupational Health and Safety (NIOSH) guidance on heat stress states employers should provide training to workers so they understand and can recognize heat stress, how it affects their health and safety, and how it can be prevented. Employers should reduce workplace heat stress by implementing engineering and work practice controls.
Fall Protection / Overhead Hazards
OSHA (1910.28) requires employers to provide protection for each employee exposed to fall and falling object hazards. Employers must set up the workplace to prevent employees from falling off of overhead platforms, elevated workstations or into holes or openings in the floors and walls. OSHA requires that fall protection be provided at elevations of 4' in general industry workplaces, 5' in shipyards, 6' in construction industry, and 8' in longshoring operations. OSHA further requires that fall protection be provided for employees working over dangerous equipment and machinery, regardless of the fall distance.
OSHA requires employers to:
Provide working conditions that are free of known dangers.
Keep floors in work areas in a clean and, so far as possible, a dry condition.
Select and provide required personal protective equipment at no cost to workers.
Train workers about job hazards in a language that they can understand.
To prevent employees from being injured from falls, employers must:
Guard every floor opening or hole into which a worker can accidently walk (using a railing and toe-board or a floor opening cover).
Provide a guard rail and toe-board around every elevated open sided platform, floor or runway.
Regardless of height, if a worker can fall into or onto dangerous machines or equipment (such as a vat of acid or a conveyor belt) employers must provide guardrails and toe-boards to prevent workers from falling and getting injured.
Other means of fall protection that may be required on certain jobs include safety harnesses and lines, safety nets, stair railings and handrails.
Powered Industrial Trucks (PITs)
Powered industrial trucks (PITs) are machinery such as forklifts that are used to move materials and can be controlled by an operator or by a walking operator.
As powered industrial trucks can be dangerous to operate, there are a few hazards that both employers and workers should become knowledgeable on:
Counterbalanced high-lift rider trucks that operators sit in are most likely to fall over;
The type and conditions of the environment can have certain hazards;
Workers can accidentally drive off loading docks;
Lifts can fall off or between work surfaces;
Workers can become trapped inside PITs.
To ensure workers' safety, employers must know the type of truck and worksite, train employers properly, and only allow competent workers to operate these trucks. Training is the best method of prevention for accidents involving PITs and helps your business comply with OSHA manufacturing regulations and loading dock safety rules.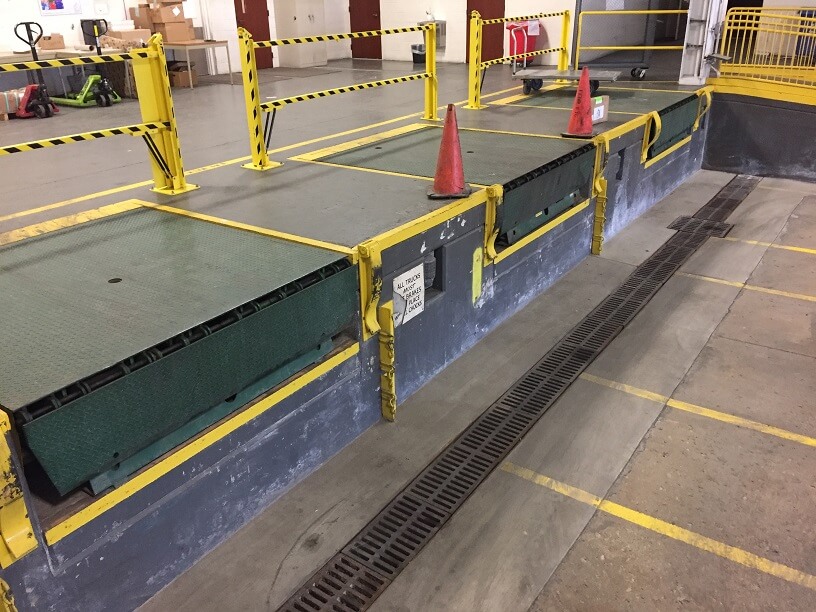 Loading Dock Safety
Due to the large volume of activity, a manufacturing and industrial loading dock can raise a variety of safety concerns for employers related to employee slips and falls, forklifts, pallet jacks, hoists, and semi-trucks.
OSHA (1910.28(b)(1)(i)) requires a loading dock with a drop of 4' or more to be guarded with a guardrail, safety net or personal fall protection systems. Additionally, employers can reduce the risk of an accident in the area of a loading dock by marking dock edges with visual warnings, installing protective barriers and interlocking controls. Before unloading or loading begins, the dock area should be cleared of unnecessary employees, debris, moisture and oil. The dock area should have proper ventilation to prevent overexposure to carbon monoxide coming from the vehicle exhaust.
For your industrial and manufacturing facility safety needs, look to RHP Risk Management's Industrial Hygienists and Certified Safety Professionals to measure, interpret and incorporate regulations and guidance of Federal, State, and local agencies to ensure your workplace health and safety is OSHA compliant. RHP experts are a trusted source for managing, mitigating, and controlling health risks in the workplace through the anticipation, recognition, evaluation, and control of environmental and occupational hazards. Contact RHP Risk Management for a free consultation by calling (773) 867-6010.