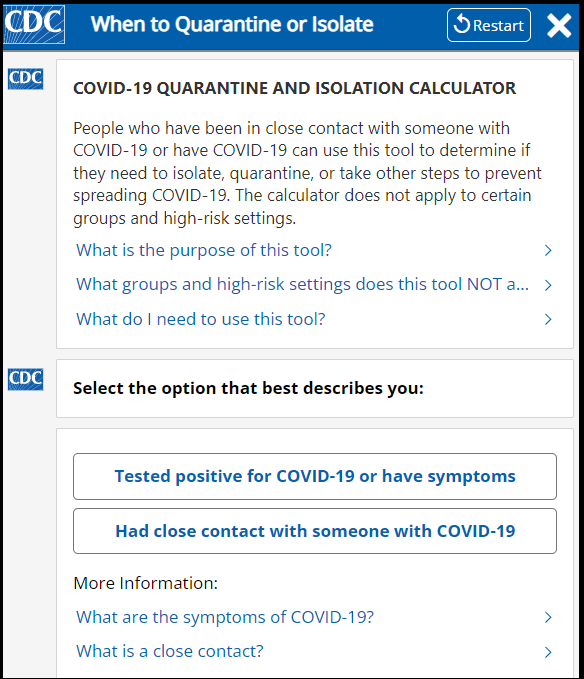 To assist the general public with questions on suspected close contact with COVID-19 or contact with a positive case COVID-19, Centers for Disease Control and Prevention has created a quarantine and isolation calculator. The tool will help determine how long to isolate, quarantine, or take precautions to prevent spreading COVID-19.
By answering a series of questions, individuals who test positive for COVID-19, have mild symptoms of suspected COVID-19 or have been in close contact of someone with COVID-19, with or without symptoms, the calculator resource provides guidance. An individual who has had close contact to someone with a positive test for COVID-19 will understand when and for how long to quarantine or understand other precautionary methods like when to test and wearing a well-fitting mask.
The CDC says their calculator is not specifically for use by employers and does not apply to:
People who are moderately or severely ill or immunocompromised. Moderately ill meaning symptomology that affect the lungs like shortness of breath or difficulty breathing, and severely ill meaning hospitalization, intensive care, or ventilation support.
Cases and close contacts identified in high-risk congregate settings and healthcare settings.
Parents and caregivers with children in K-12 schools or early care and education (ECE) programs.
RHP Risk Management's Certified Industrial Hygienists, Health Scientists, and Certified professionals employ their experience and training to advice and guide industry and business leaders in navigating the uncertainties and challenges presented during and after the COVID-19 pandemic. RHP utilizes knowledge and expertise to interpret and incorporate regulations and guidance by Federal, State, and local agencies and leading Public Health and institutional resources, to facilitate client responses to the rapidly evolving pandemic concerns of COVID-19. RHP experts are a trusted source for managing, mitigating, and controlling health risks in the workplace through the anticipation, recognition, evaluation, and control of environmental and occupational hazards.