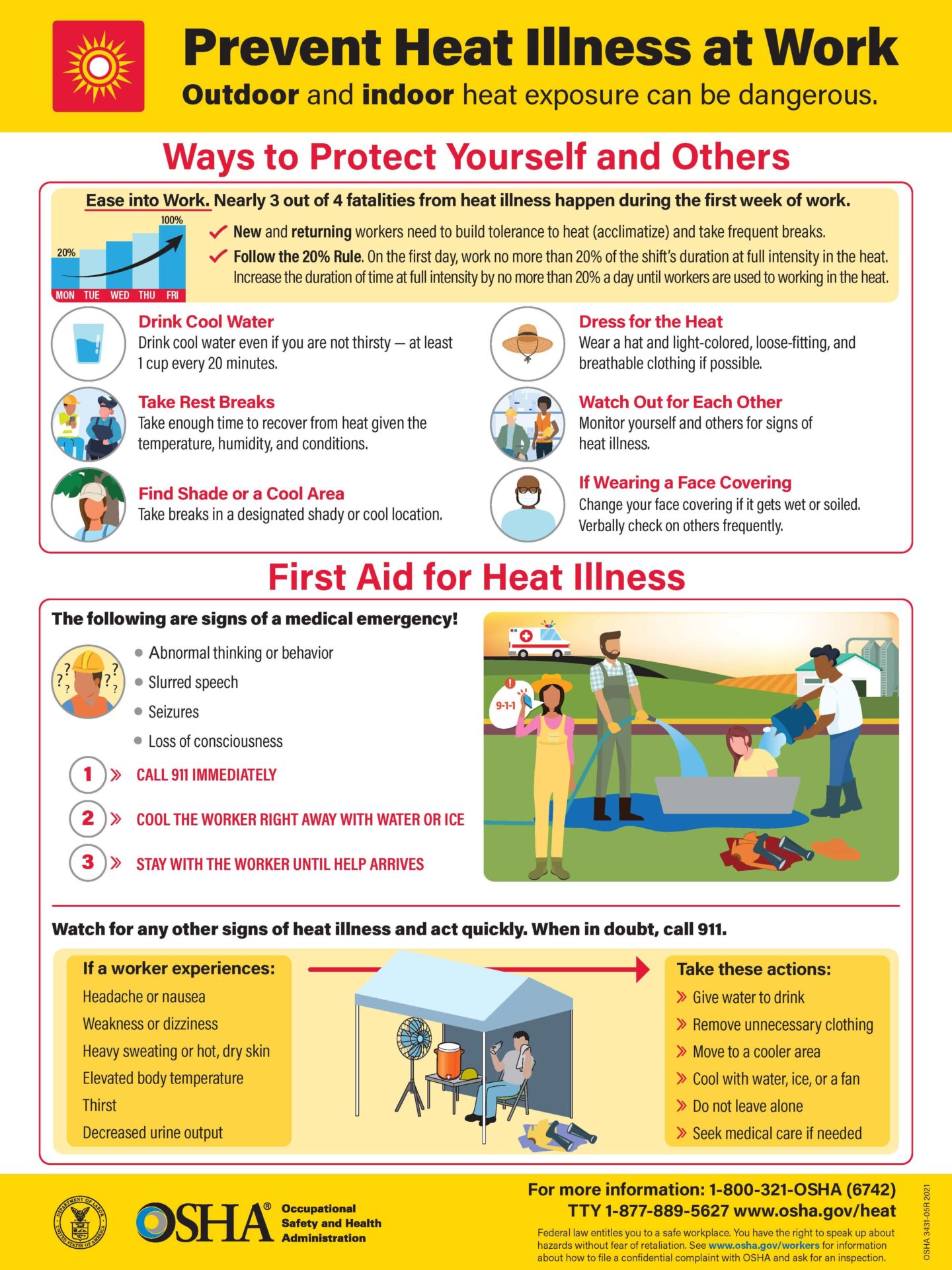 Last month the Biden Administration launched Heat.gov to provide real-time data and resources for employers, local officials and the public in an effort to reduce the risks of extreme heat and help keep workers safe from heat related illness. The website is part of the interagency National Integrated Health Information System (NIHHIS).
Heat.gov comes as the guidelines laid out in the "Asunción Valdivia Heat Illness and Fatality Prevention Act of 2021" are set to be approved by the House will provide employers resources to better recognize heat risks. The bill requires OSHA to issue a federal standard for heat stress protections tailored to specific workplace hazards and encourage meaningful participation of employees. The federal standard is expected to require that workers exposed to high heat conditions be guaranteed paid breaks in cool or shaded environments and access to water for hydration. Additionally, under the standard employers would be required to create emergency response procedures for employees suffering from heat illness, provide training on heat stress, and implement acclimatization plans to ensure workers can adjust to their working conditions. The bill further mandates employers utilize engineering and administrative controls to limit workplace heat exposure (i.e., ventilation and/or protective clothing) and maintain records on all heat-related illness and deaths.
To support the focus on reducing workplace heat-related hazards, OSHA  has a Heat Illness Prevention Campaign aimed at providing information to employers and workers on the dangers accompanied by heat, a National Emphasis Program (NEP) that focuses on ensuring employees in high-hazard / high-risk industries and occupations are protected from heat-related hazards and allows OSHA to conduct workplace inspections, and 2 heat focused groups, the National Advisory Committee on Occupational Safety (NACOSH) and the Health Heat Injury and Illness Prevention Work Group.
As  weather patterns widen and continue to be erratic and more severe, employers should look for ways to protect their workforce (indoors and outdoors) who are at risk for heat-related injury and to stay current on the risks of heat exposures and the signs and symptoms of heat-related illnesses. Employers should explore effective mitigation strategies that can be implemented in workplaces to help minimize the effects of heat stress these include employee training, acclimatization, hydration and rest breaks.