As a regular theatergoer, RHP's Shelley Hawkins considers the myriad issues that theaters will be forced to consider as the United States re-opens and crowds gather for performances.
I have long been a theater aficionado, following the development of new productions and seeing those I can when they tour near me in the San Francisco Bay Area of California. I normally go to numerous musicals and plays every year in San Francisco, the East Bay, San Jose and Sacramento, from major Broadway tours to community theater. About two weeks before the shelter-in-place in the California Bay Area counties was announced, I went to San Francisco to see a matinee of the tour of "Hamilton" via discounted day of "rush seats", and a week later, to the tour of the revamped "The Last Ship" starring Sting. "The Last Ship" had a previous incarnation on Broadway but had undergone a major overhaul and was touring Canadian and US cities, and I was curious to see the changes.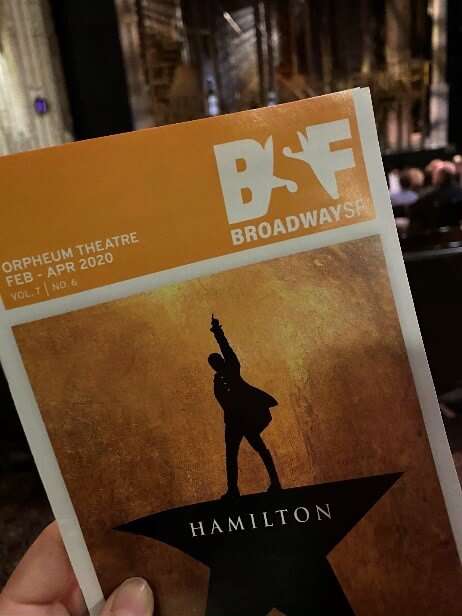 It was seemingly a regular excursion to the theater. My friends and I took crowded public transit, had dinner in a packed restaurant, stood around with the milling theater patrons waiting to enter the theater, mingled in the lobby with hundreds of others who were buying drinks and merchandise, and then sat in tightly-packed rows to listen to the fantastic musicians play the score, watch the actors sing and dance, romance and fight, transporting us to an English shipbuilding town in the Thatcher era. Every step of my trip to the theater involved large numbers of people in close proximity. While I feel very grateful to have had the chance to see the productions, I have to wonder if I would have attended had the information concerning COVID-19 been more widely circulated at the time.
Days after I saw the show, on March 11, the City and County of San Francisco banned events larger than 1,000 people and all performances of "The Last Ship" and "Hamilton" from that evening through the 25th were canceled. A day later, on the 12th, the California Department of Health banned all events involving more than 250 people, and the theater announced that all ticketed events were canceled through the 31st. A mere four days later, on the 16th, the City and County of San Francisco updated their Public Health Order prohibiting gatherings of 50 or more through April 7th. In the ensuing days, all performances of the two shows were canceled and shows that were scheduled for the season (through August) have been rescheduled to an unspecified later date. Future tour dates for "The Last Ship" in other cities were postponed or canceled, and the tour effectively closed.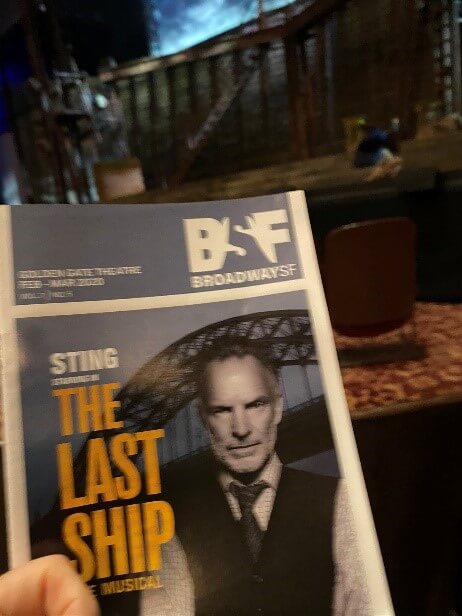 A revamped show with secured engagements and press arrangements, perhaps with aspirations for a Broadway return, was gone in an instant. Of course, it is not just this show, but a whole industry has essentially been stopped in its tracks, everyone from actors, musicians, set dressers, costumers, and stagehands, sound mixers to ushers left adrift as shows all shut down at once. While theaters and productions are now trying to embrace online streaming of previously recorded content and Zoom-style broadcasting of new content, there are licensing and union issues that will likely prevent this from becoming an easy shift, and of course filming anything new to broadcast is not currently possible.
It is hard to visualize what a return to theatergoing would look like or even when it could happen. California has announced a 4-Stage reopen plan, with Stage 1 being the current status of restricted shelter-in-place with almost all non-essential businesses closed. California counties are currently entering Phase 2, allowing non-essential manufacturing, schools, childcare facilities, retail business for curbside pickup and offices where remote working isn't possible to reopen, with required modifications. There is currently no timeline for when the state might move into Stage 3, which allows movie theaters, religious services, anTd personal and hospitality servic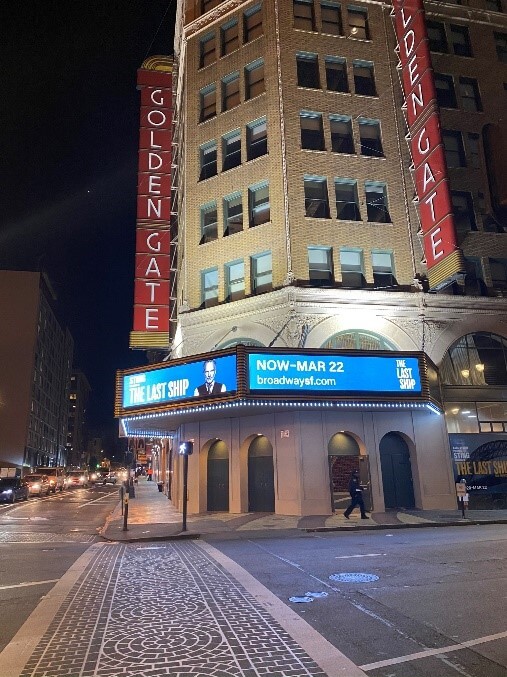 es to reopen with adaption. Concert venues, convention centers and sporting events with live audiences are slated for reopening in Stage 4 with the end of the stay-at-home order. Even assuming Stage 3 begins soon, the Stages aren't necessarily linear, and it is possible the state may decide to re-enact stricter measures and "go back a Stage" at any point.
Whenever California does enter Stage 4, what will it mean for theaters and theatrical performances? When and how would the public feel safe in going into a theater environment?   Theater subscribers are traditionally an older segment of the population – will they feel comfortable being in an enclosed space with numerous others? Will theatergoers have to wait outside the theater in long, socially distanced lines, to slowly be let in? Will ushers and attendees wear masks? Might there be health questionnaires and temperature screenings along with the now-standard bag checks prior to entry into the venue? Will audiences be limited in size with cordoned off seats to maintain social distancing between non-family groups? Will audience members need to place drink orders online and have them delivered to their seats? It is already a struggle for everyone who wants to use the restroom to do so during the intermission – how could this be handled with social distancing?
For theatergoers to return, there first would need to be productions to see – what measures would be acceptable to actors, musicians and crew (and their unions) in their potential return to stage? The logistics of the audience returning pales in comparison to the daunting task of how the shows themselves would return! I love the creative world of theater and it is both heartbreaking and heartwarming to watch theater companies the world over come together to produce content to try to brighten spirits and benefit the Actor's Fund, but I wonder how long this is a sustainable situation. To make a living in the world of theater was a tenuous situation for many even before the pandemic. In the best and worst of times, we turn to art to inform us and feed our creative souls. Whatever form theater and theatergoing takes in the future, I look forward to attending when and if the all clear is sounded.