RHP's Shelley Hawkins blogs about her volunteer experience making cloth masks during the COVID-19 pandemic and provides some helpful tips for those who are looking to join the fight against the coronavirus.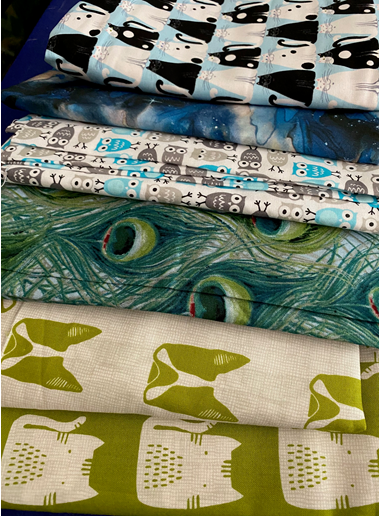 Shelter-in-place has been the status quo in my county in the California Bay Area (CABA) since March 16, and was just extended through the end of May. Recent updates to the shelter-in-place order in Bay Area counties and cities, including mine, have included new face covering/mask orders for residents out in public effective as of April 22. In my county, the order describes "out in public" as public settings where it may be difficult to maintain social distancing, with the order applying to workers and residents inside essential businesses, visiting a health care facility, or standing in line for or riding public transit.
Businesses must take "reasonable measures", such as posting signs, to remind visitors about masking, and not serve customers who do not observe the order. Those exercising outdoors are encouraged to continue social distancing practices but should also plan to carry masks or face coverings and use them whenever they come near six feet of others outside their own households. Runners and bicyclists engaged in "strenuous exercise" are advised to stay further apart from others, as they may be breathing more heavily.
The CABA order defines acceptable face coverings as "anything made of cloth, fabric or other permeable material that covers the nose and mouth and the lower part of the face", with T-shirts and bandanas noted in the definition as "fine". Masks with one-way valves do not qualify under the definition due to the possibility of released respiratory droplets. It is emphasized that the mask order does not replace the stay-at-home order, the need for social distancing, the need to wash hands frequently, and the need to cover coughs and sneezes.
I should note here that I am the daughter of a quilter, and am part of a volunteer charity costuming club, so I have passing familiarity with a sewing machine. Prior to the face covering requirement, when the topic of homemade masks first started coming up in my online costuming groups, I was hesitant to join the mask crafting effort. This is not because I didn't want to be helpful, but wearing masks was not the recommendation of the CDC at the time, and there were mixed messages about whether people should be wearing masks and if cloth masks were effective. There is the reality that a person who touches a mask that is wet from their exhalations or coughs and then goes on to touch multiple surfaces in a grocery store, for example, is an unintended consequence where the mask is now a vehicle. Cloth face coverings are more about protecting other people from anything the wearer might be carrying, rather than protecting th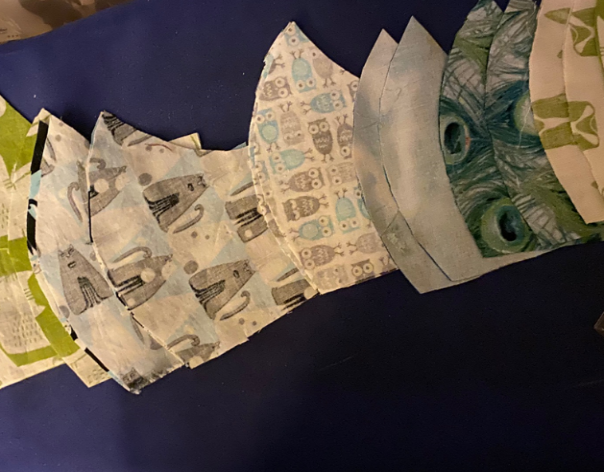 e wearer from the environment, and of course homemade face masks are not replacements for the PPE such as N-95s; these masks, now in short supply, are reserved for frontline workers and the medical community.
Since the CDC has now changed their recommendation for the general public to wear face masks, and since some communities and businesses are now requiring masks to be worn, including my own county, I have entered into the homemade face mask volunteer effort. A community of handmade face mask crafters has grown online, and although there are those selling these masks, there is a large contingent doing this solely on a volunteer basis, donating masks to those who request them. Some requests are coming in for workers at nursing homes and medical offices, with the idea that homemade masks worn over N-95 or surgical masks might prolong their life, but many requests are for essential workers in grocery stores, pharmacies and other such locations.
Alongside the maker community, there are those who have developed contacts with mask requesters, coordinating masks getting from maker to requester. There are online swaps of materials as many fabric stores are closed, or, if still open, are operating at a limited capacity for curbside pickup or delayed warehouse shipping; big box stores that sell both essential items and sewing materials are quickly running low on fabric and r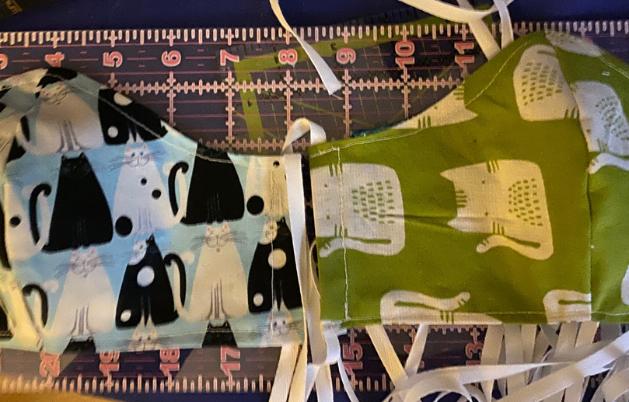 elated mask supplies. Crafters are sending each other fabric stashes from their closets and swapping hard-to-find materials. Elastic is extremely hard to find; crafters have started innovating so they can continue production by making their own bias tape or using hair ties in place of elastic.
For my own face mask endeavor, first I had to decide what pattern to use. There are numerous tutorials on the internet on how to make face masks in styles from simple to complex, from folded fabric sewn on the edges with elastic to go around the ears, to ones which are pleated, to ones with a pocket for the insertion of disposable filters and a slot to insert a bag tie or piece of pipe cleaner to form around the nose. Which of these is the most comfortable in combination with being the most effective possible is an ongoing and evolving discussion.
Once one has decided on the style, it's on to deciding upon the fabric. The efficacy of various fabrics and materials has been debated, with coffee filters initially being recommended as an insert, but because they don't allow for much breathability, they are no longer in favor. Thick, high thread count or multiple layers of thinner natural fabric are largely what is being requested currently as the desired balance between filtration effectiveness and breathability. Canvas, denim and bed sheets have been recommended as the best materials in a recent article by Kristen Aiken for the HuffPost.
After reviewing the options, trying some mockups and managing to get in an online quilting cotton order, I settled upon a two-layer fitted design with bias tape ties and a pocket which allows for a disposable filter. It would be simple to add a pocket for an optional nose bridge if requested, but for ease of hopefully frequent washing and longevity of the mask, it seemed awkward to have a pipe cleaner sewn in permanently, so I am not doing that as a default. While this is certainly not a replacement for medical-grade PPE, it offers some flexibility for customization and is about as comfortable as a face covering is going to be.
My plan is to donate the first batch of my masks to the local animal shelter, who has requested them for their essential workers who are interacting with the public for situations such as owner ID of lost pets. After that, I have a local resource who has been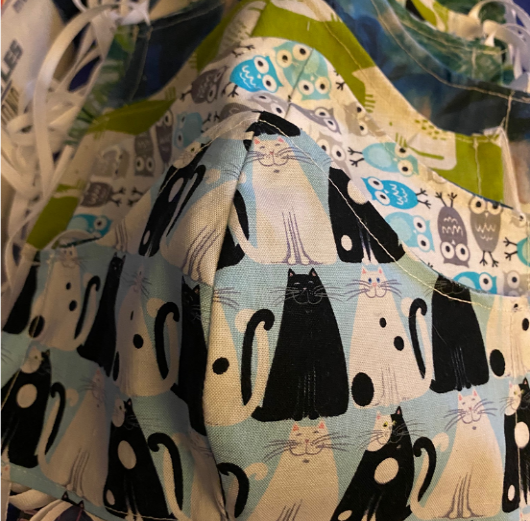 connecting makers with requestors for the last few weeks. I also plan to send some to friends who are struggling to find masks so they can comply with face covering orders in their areas. The masks are not terribly difficult to sew, but it does take time to cut, piece, iron and sew them. It is unclear how long we will be under this order, so stylish and comfortable mask options may be in demand for some time, and it will be interesting to see how the online volunteer effort and the advice on the best fabrics and patterns evolves as new information comes out. In fact, while I was writing this, Maria Godoy, NPR published the results of a Northeastern University study, suggesting the addition of turtleneck type outer layer made from nylon stockings over a homemade face covering has been shown to boost the efficacy of homemade face coverings in filtering out smaller particles.
As the research and knowledge progresses and I'm sewing masks in the evening while watching TV, I have been reflecting that while it isn't an ideal world right now, crafters are in a position to fill an important need in the system in fighting COVID-19. Through their experience, knowledge, talent, creativity, and kindness, these many unnamed crafters and sewers around the world volunteer their time, materials and energy and are a wonderful reminder that there truly are good people in the world who want to help.
For resources concerning COVID-19, visit www.rhprisk.com/coronavirus/