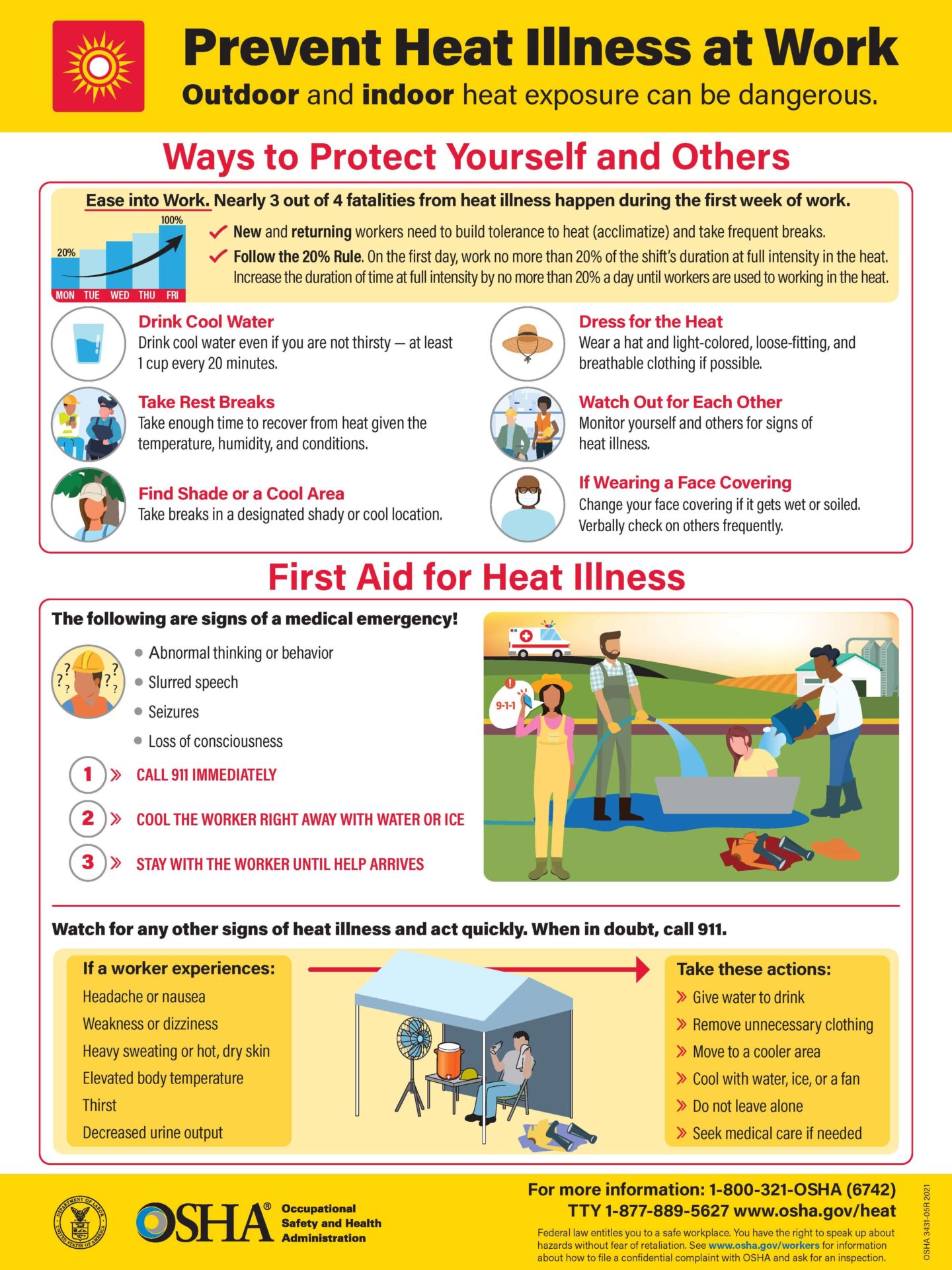 To support its focus on reducing workplace heat illness hazards, the Occupational Safety and Health Administration (OSHA) has announced a new National Emphasis Program (NEP) for occupational illness and injuries and is forming a National Advisory Committee on Occupational Safety (NACOSH) and Health Heat Injury and Illness Prevention Work Group. The two initiatives come while OSHA develops a heat illness standard applicable to General Industry and Construction, which may take years to finalize.
OSHA says this NEP will focus on ensuring employees in high-hazards high-risk industries and occupations are protected from heat-related hazards and allows OSHA to conduct heat-related workplace inspections. This NEP is part of a broader Department of Labor response to President Biden's Executive Order "Tackling the Climate Crisis at Home and Abroad" and the U.S. Department of Labor's Climate Action Plan, where the Secretary of Labor established a goal of reducing heat-related illnesses. Towards these goals, the White House issued a statement encouraging interagency efforts and commitment to workplace safety, climate resilience, and environmental justice that included reducing-heat related illnesses. The heat-related NEP incorporates and expands on OSHA's initial intervention and enforcement response to the President's order, a heat initiative memorandum that instructed Regional Offices to prioritize heat complaints and referrals and to intervene in situations of possible heat hazard conditions.
In responding to OSHA, the NACOSH Health Heat Injury and Illness Prevention Work Group will provide recommendations on the Agency's heat injury and illness prevention guidance, best practices and rulemaking activities for mitigating occupational heat injury and illness. The Work Group members are well versed and experience in the identification of cases and the factors that lead to heat injury and illness hazards in the workplace.
Effective employer prevention strategies to reduce heat stress in the workplace may include engineering controls (increased ventilation, use of heat shields, providing shade, reducing humidity), providing heat stress safety training for workers, acclimatization, hydration, and rest breaks.
RHP Professionals are experienced, knowledgeable, and credentialed to provide guidance for businesses implementing worker health and safety plans. Companies and businesses who adopt, promote, and seek to regularly improve their active Occupational and Environmental, Health and Safety programs and management systems are rewarded with a happier, healthier, and more productive workforce with less turnover, and lower administrative and operating costs. Contact RHP for an initial consultation or call (773) 867-6010.