According to NIOSH, over 3 million employees in 1.3 million workplaces in the U.S are required to wear respiratory protection. In the construction industry, healthcare, and general industry, workers don respiratory protection as part of their daily routine. OSHA requires that in any workplaces where respiratory protection is "necessary to protect the health of the employee", or in any workplace where respirators are required by an employer, the employer must establish and implement a written respiratory protection program.  A respiratory protection program must include worksite-specific procedures and respirator fit testing procedures. (29 CFR 1910.134)
A respirator fit test is conducted to validate the efficacy of a respirator or to determine the appropriate respirator for an employee's protection on a work site or during a particular work activity. The testing determines whether the respirator provides an adequate seal on the wearer's face and the amount of a potential contaminant leakage into the facepiece through the face seal. A successful fit test qualifies an employee to use a specific brand/make/model and size of respirator that he or she wore during the test. Respirator sizing is not standardized across models or brands, and a medium size in one model/brand may not offer the same fit as a medium size in another. The OSHA respirator standard prohibits tight-fitting respirators to be worn by workers with facial hair that comes between the sealing surface of the facepiece and the face of the wearer. Facial hair that lies along the sealing area of a respirator, such as beards, sideburns, or some mustaches, can interfere with how a respirator facepiece fits and seals for maximum protection.
OSHA requires respirator users to be fit tested before use of a respirator in the workplace through two types of tests: Quantitative Fit Testing (QNFT) and Qualitative Fit Testing (QLFT).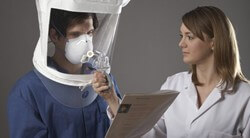 What is a Qualitative Fit Test (QLFT)?
A qualitative fit test (QLFT) is used to fit test negative-pressure, air-purifying respirators.  These respirators are used in atmospheres where the potential hazard is at less than 10 times the permissible exposure limit (PEL) and tight-fitting facepieces are used with powered and atmosphere-supplying respirators. A QLFT relies on the respirator wearer's senses to determine if a gap in the respirator seal to the wearer's face is effective. In a QLFT, if a seal is ineffective a test agent (such as irritant smoke) is qualitatively detected by the wearer's sense of taste, smell, or involuntary cough. When testing, the employee must wear the same make, model, and size respirator as the one they will wear on the job. Any additional protective equipment, such as safety googles and earmuffs, should be donned during testing to validate this equipment does not interfere with the seal.

What is a Quantitative Fit Test (QNFT)?
A quantitative fit test (QNFT) uses a fit testing instrument to provide quantitative, numerical, measurements of the amount leakage may be present from a face seal when a user wears a particular respirator. Quantitative fit testing entails punching a small hole into a respirator and then running the test using 3 different OSHA-approved methods. The testing process challenges the seal of the mask on the users' face including generated aerosol, ambient aerosol or controlled negative pressure.
Medical Evaluations
OSHA states (1910.134(e)) using a respirator may place a physiological burden on employees that vary with the type of respirator worn, the job and workplace conditions in which the respirator is used, and the medical status of the employee. Before fit testing and use, an individual must provide a medical evaluation to gauge an employee's ability to use a respirator. A physician or other licensed health care professional (PLHCP) must perform the medical evaluations.
How Often Should Fit Testing Be Done?
OSHA (1910.134(f)(3)) requires that fit testing be conducted annually, and when new hires are oriented, the brand of respirator desired changes, and then repeated "whenever an employee reports, or that the employer or the physician or other licensed health care professional makes visual observations of changes in the employee's physical condition that could affect respirator fit, such as facial scarring, dental changes, cosmetic surgery, or an obvious change in body weight". OSHA has issued  Temporary Enforcement Guidance for the Healthcare Industry that provides discretion for enforcement of the annual fit test requirements as long as specific criteria are met under 1910.134(f)(2). NIOSH has completed a study that confirmed the necessity of the current OSHA respirator fit testing requirement, both annually and when physical changes have occurred.
RHP occupational health and safety professionals provide equipment/respirator assessments and onsite respirator fit testing to assist employers, associations, unions mitigate the risk of workplace hazards in the workplace including the healthcare industry for risks between staff and patients. RHP's development and implementation of respiratory protection program and training provide the support and expertise to keep your business in compliance with OSHA standards. Contact RHP for an initial consultation and learn how to incorporate the RHP respirator face fit testing services into your programs, training, and employee safety protocols: (773) 867-6010.