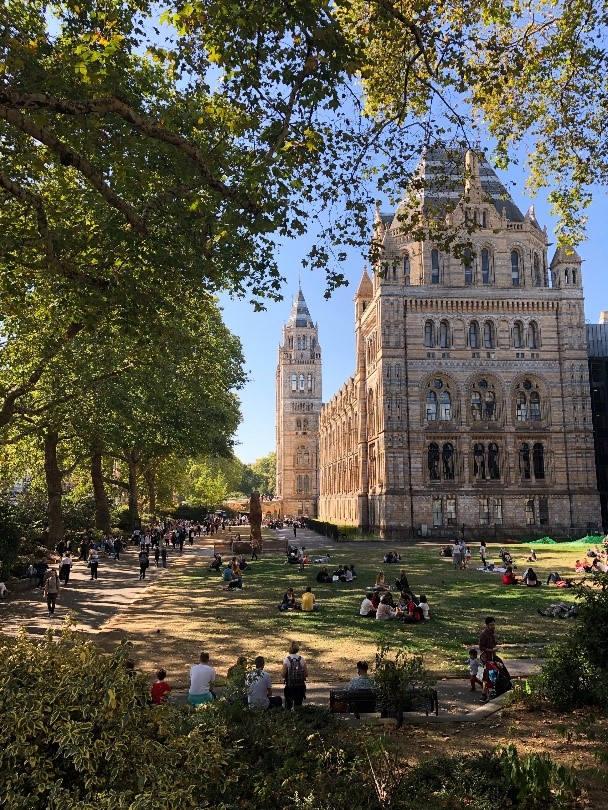 COVID-19 caused an abrupt disruption of the 2020 school year forcing colleges to close their campuses and students to make a variety of adjustments including living arrangements, switching to online learning, and finding a new way to continue a social life, while still social distancing.
College junior Sean Johnson had just completed his basketball season at a Division III college when he and his classmates were dismissed for Spring Break on March 6th. His original plans for Spring Break were to live at his parent's home in Chicago and begin a break time internship, and his plan for the upcoming summer was a continuation of this internship to prepare him for his senior year of college.
Due to COVID-19, on March 12, Sean's school announced that Spring Break had been extended and students were to self-quarantine, with a planned return to campus on April 14th. Six days later (March 18), the College ordered students to remain home and announced the completion of the semester would take place off campus via "Schoology", a computer-based system. Sean said students were given an assigned date with a 2-hour window to return to campus and their dorm rooms to pick-up all their personal items.
Sean is finishing his junior year by watching videos his professors post on YouTube daily and completing assignments weekly. There will be no class presentations, tests, mid-terms or final exams.
A college junior year and subsequent summer are typically the last opportunities for a college student to build their resume and prepare themselves before they are released into the workforce and could be considered the most critical of the four years. Sean said his summer internship has been cancelled and "a lot of my friends had planned on finding internships but now there are no longer the opportunities to do so. Its terrible timing on a last opportunity to build skills for our resumes."
A 3-year starter for the school's basketball team, Sean's offseason training has also been derailed. Since he is now off-campus, he does not have access to the team's weight room – and with Illinois statewide shelter-in-place orders, he is unable to access a gym. Sean uses the work-out plan his basketball coach put together for him to work out on his own. He says he has "been staying indoors and abiding by the restrictions and doing what I can. I am not worried about myself contracting the disease, but I am aware of the fact that I could potentially put others in danger who are at risk for contracting COVID-19."
Sean's is not alone. According to a poll of 487 graduating high school seniors by the Baltimore-based Art & Science Group, 90% of respondents have been keeping up-to-date with at least the daily headlines of the pandemic through a variety of sources including social media, news outlets, and social contacts, with 10% checking at least hourly. Despite the portrayal of Gen-Z as failing to abide by social distancing and other protocols this poll shows students very concerned about COVID-19. https://www.artsci.com/studentpoll-covid19
The uncertainty for the fall of 2020 has current college students and incoming freshman left in flux. While the school Sean attends notes on their website that the College plans on resuming classes next fall. Sean says he has been unable to secure off campus housing for the 2020/2021 school year and has been forced to look for an apartment online, "It's definitely more difficult because even if we find an apartment we like, we can't get a tour because we live so far away (from campus) and some landlords won't provide a tour and are only offering to send pictures."
Meanwhile, as the May 1 National Decision Day has come and gone, many high school seniors have yet to choose what college they will attend. The same Art & Science Baltimore Group poll of graduating seniors found two-thirds voiced their concerns that they may have to change their first-choice college due to COVID-19, choosing an education closer to home or online for purposes of both familiarity and financial savings. An additional one in six of 4-year college-bound respondents polled indicated they were near the point of giving up on the idea of attending a 4-year college or university as a full-time student in the fall of 2020.
While the U.S. Government has provided colleges and their students some financial relief with the $6 billion CARES Act (https://www.ed.gov/news/press-releases/secretary-devos-rapidly-delivers-more-6-billion-emergency-cash-grants-college-students-impacted-coronavirus-outbreak), the lack of institutional enrollment from the incoming freshman class leaves colleges with an uncertain cash flow. Additionally, the abrupt ending to the Spring 2020 semester has colleges doing their best to sort out financial situations for their current student body. Residential students registered for the Spring 2020 semester will receive prorated credit for housing and meal plans, graduating seniors will receive a refund for any remaining credit balances.
Sean says although this has been a trying experience, he is keeping the changes in a good perspective, "I had to do a project about the 'next step' and I know how important it is to keep these restrictions on social distancing in place for the foreseeable future. I know everyone's health is top priority and it would be great to get back to our normal life, but I now understand how real a threat COVID-19 is."
At RHP Risk Management, we help our clients navigate the uncertainties associated with environmental and occupational hazards and risks. Our staff of public health professionals are experienced and trained in recognizing, anticipating and controlling hazards. For RHP resources concerning COVID-19, visit www.rhprisk.com/coronavirus