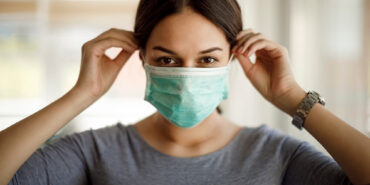 On May 13, 2021, the CDC issued updated guidance, "Interim Public Health Recommendations for Fully Vaccinated People". With this updated guidance "fully vaccinated people no longer need to wear a mask or physically distance in any setting, except where required by federal, state, local, tribal, or territorial laws, rules, and regulations, including local business and workplace guidance" and "fully vaccinated people can refrain from testing following a known exposure unless they are residents or employees of a correctional or detention facility or a homeless shelter." Upon issuing this updated guidance, CDC Director Dr. Rochelle Wolensky noted, "If you are fully vaccinated, you can start doing the things that you had stopped doing because of the pandemic."
RHP's October 2, 2020 white paper: "Pandemic Infectious Disease Plan Update: Managing a New Normal?" discussed the need for employers/businesses to protect the health and safety of their work force by creating defined, clear, achievable and transparent health and safety plans that included a pandemic safety/ infectious disease component. I described how a robust health and safety policy should now always include among many other components, a full range of infection control measures such as use of personal protective equipment (PPE). Upon release of the updated CDC guidance, some public facing businesses in retail, hospitality, and grocery industries immediately began to relax their mask wearing policies for employees, customers, vendors and visitors, while other similar businesses communicated no intention to change their policies at this time. These diametric approaches combined with the differing approaches state-by-state, and the ambiguous guidance on masking across Federal and State regulatory agencies, has created a blurry picture for employers and employees regarding if, when, or how to modify health and safety plans. As with so many other questions surrounding how to safely navigate through a pandemic, the answers are complicated. Ultimately, while the updated CDC guidance represents a significant and long-awaited victory in the now over 1 year-long global battle against the transmission of COVID-19, business owners and employers need to be cautious, remain vigilant, and not hurry to relax existing health and safety regulations in the workplace before considering some key points.
Before making any changes to their company's existing health and safety plan, even in light of the updated CDC guidance, employers must determine with certainty that the changes they intend to implement are supported by the applicable guidance specific to their industry, and geographical location (local and state regulations), and then carefully evaluate any potential risks faced by their particular business after such changes are made. While the CDC has advised that it is acceptable for businesses in certain industries to ease masking restrictions, it is important to remember the CDC is a guidance source and is not a final authority. While state and local governments have historically relied on CDC guidance to craft public policy, the CDC is not a regulatory agency. Federal, state, and local governments, through regulation, legislature, and/or public health agencies, can and have chosen to impose stricter regulations than guidance issued by the CDC, and the authority to make mask wearing mandatory in public settings resides with those governing bodies. Since the update came out on May 13th, a number of states have lifted their state mask mandates to align with the new CDC guidance, however 21 state governments, as well as Puerto Rico and the district of Columbia have not yet adopted this new guidance, and businesses within these states are still required to follow the standing requirements for face coverings in indoor public and employment settings.
A further consideration for employers, is that while OSHA, the agency tasked with creating health and safety regulations specific to the workplace, temporarily adopted the updated CDC guidance on May 17, 2021OSHA has not yet issued its' own updated regulatory guidance to employers on masking. The most recent OSHA issued guidance remains the January 29, 2021 guidance , instructing employers not to distinguish between workers who are vaccinated and those who are not. OSHA's current position is that they are reviewing the recent CDC guidance, will update materials on the OSHA site accordingly, and in the interim suggests employers refer to the CDC guidance for information on measures appropriate to protect fully vaccinated workers.
If an employer determines that all existing regulations applicable to their specific location (local, state, region) and industry do, in fact, permit the lifting of any existing face covering mandates they must approach these changes with caution and careful consideration. Inherent challenges and impracticalities exist in attempting to enforce different rules for vaccinated employees/customers vs. those who are unvaccinated. These include, among other issues, creating confusion, compromising health and safety, and increasing the opportunity for work-related claims such as discrimination, hostile environment, or privacy. Additionally, one remaining constant since the onset of the COVID-19 pandemic, is that our knowledge surrounding SARS-COV-2 and the relative risks for different transmission modes of COVID-19 is perpetually evolving. While vaccinations have proven to be an effective tool in the battle against the transmission of COVID-19, scientists continue to gather data measuring how effectively vaccines mitigate the risk of transmission, and the CDC has clearly stated even fully vaccinated individuals can still get sick, as "no vaccine is 100% effective". Given this fact, labor unions representing customer facing businesses such as retail, hospitality, grocery, and travel have raised serious concerns over lifting mask mandates and the potential for adverse impact on members/employees who routinely interact with un-vaccinated co-workers and members of the public. Further, employers should not entertain the idea of lifting their mask mandates without very heavily considering the efficacy of the other infection control measures they have put into place in their businesses, buildings, and modes of transport. This consideration should include the degree to which those controls are enforced and validated. Any changes ultimately made to the existing health and safety policy must be well documented, clearly communicated to all applicable persons, and posted in various locations throughout all company facilities and worksites.
Finally, as we have navigated the complicated twists and turns on the road to recovery from the COVID-19 pandemic, one of the most valuable lessons we have learned is that regulatory guidance, including the CDC's updated mask mandate, is subject to change should new information present itself and circumstances dictate. The current guidance is the most recent effort by the CDC and other such agencies to address the unprecedented challenge we face. It represents a steep departure from previous virus transmission mitigation efforts and acknowledges that should COVID-19 transmission rates return to previous levels, there may be a need to return to part or all of the previous guidance. Should an employer choose to lift their workplace mask mandate to align with the current local and federal guidance, they must commit to remaining cognizant of any changes to this guidance going forward, as it may once again be updated while we continue to move through the pandemic.
To navigate the complexities of the complicated and evolving COVID-19 climate, employers should continue to work with an experienced health and safety professional to ensure their workplace policies are compliant with the most current regulatory guidelines. RHP Risk Management's experienced, credentialed, and trained public health and scientific professionals continue to monitor, assemble, audit, and assess the evolving information on the current pandemic (SARS-CoV-2) and are developing programs, systems, and plans to help our clients maintain healthy and safe workplaces and facilities.
Wendi Egan, Manager
(773) 867-6006 [email protected]
Jason Lang, Sr. Manager
(773) 867-6002 [email protected]
Frank Pagone, PhD
(773) 867-6011 [email protected]
At RHP Risk Management, we help our clients navigate the uncertainties associated with environmental and occupational hazards and risks. Our staff of public health professionals are experienced and trained in recognizing, anticipating and controlling hazards. For more information on RHP's services and contact information, please visit www.rhprisk.com. For more resources concerning COVID-19, visit www.rhprisk.com/coronavirus.