EPA Issues Final Revised Risk Determination for Pigment Violet 29 (PV29) under TSCA
The U.S Environmental Protection Agency (EPA) has issued a final revised risk determination for Pigment Violet 29 (PV29) determining that, as a whole chemical substance, PV29, poses an "unreasonable risk" to workers and occupational non-users under certain conditions, specifically for workers in domestic manufacturing facilities, paint and coating processing facilities, plastic and rubber processing facilities, recycling facilities, and industrial settings.  The September 2022 revision marks a reversal of the EPA's preliminary findings that PV29 poses no unreasonable risk of injury to humans or the environment.
The EPA states their revised findings are based off the PV29 compound's low solubility, vapor pressure, and bioaccumulation potential.  The PV29 molecule has been used in formulations for coloring applications such as paints, inks, paper, carpets, solar cells, and even drugs. The EPA reports the chemical exposure assessment of PV29 found long term inhalation of the chemical produced lung toxicity effects or and abnormal increase in the number of cells in the lungs where oxygen transfer occurs.
The EPA has met the Toxic Substances Control Act (TSCA) requirement to eliminate unreasonable risk of injury to health and the environment with this revision and important to many occupational environments. While the compound was not banned by the EPA, proper safety measures are now being taken to ensure the health and safety of all occupants, when regarding the PV29 compound.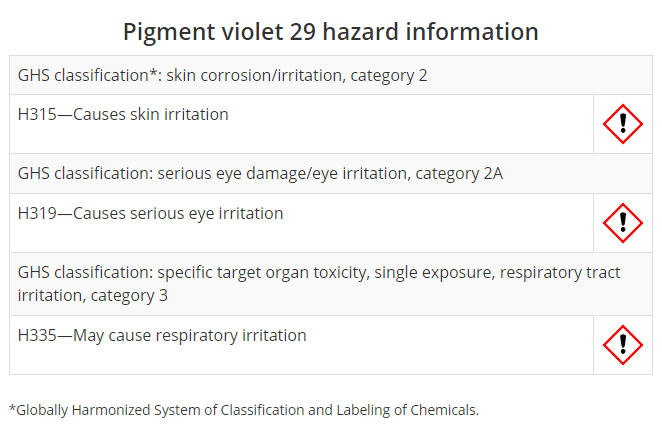 In September this year, RHP's Ben Heckman, CIH, MPH moderated an expert panel on the Toxic Substances and Control Act (TCSA) where regulations and determinations were discussed. The EPA's evaluation of new and existing chemicals including PV29, is important for employers to understand and stay abreast of as determination changes related to occupational and public health could have massive effects in the workplace.
At RHP Risk management we help our clients to improve safety plans across a wide variety of industries. We specialize in chemical exposure assessments and can ensure regulatory compliance is met. RHP Risk Management professionals have moderated changes within TCSA at Perrin National Asbestos Conferences. For more information on RHP's conferences and service, please contact Jacob Persky, MPH, CIH at jpersky@rhprisk.com, (773) 867-6001 or Ben Heckman, MPH, CIH at bheckman@rhprisk.com, (717) 706-3847 and visit rhprisk.com.