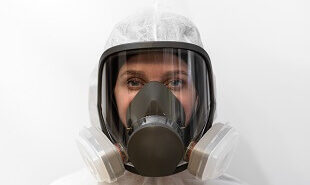 19 respirator models, that had previously been approved under a temporary public health emergency (PHE) designation related to the COVID-19 pandemic, are now considered obsolete by the National Institute for Health and Safety (NIOSH). The 14 N95 filtering facepiece respirators (FFRs) and 4 powered air-purifying respirators (PAPRs) can no longer be manufactured by the approval holder, but can continue to be sold, used, and recognized as NIOSH approved until the agency revokes the approval when the COVID-19 public health emergency ends.
Between May and November 2020, NIOSH issued limited, temporary PHE approvals for N95 FFRs and PAPRs to address respirator supply shortages during a period of extreme need.  The approval was  not intended for creating or replenishing stockpiles for future use. NIOSH states the obsolete designation comes now that there are adequate supplies of conventional NIOSH-approved respirators (not PHE-approved) available in the United States.
You can see the NIOSH list of approved respirators through the CDC or visit the Centers for Disease Control and Prevention's (CDC) National Personal Protective Technology Laboratory (NPPTL) to see specific model respirator approval codes.
For Employers who's workforce require PPE or desire PPE, the employers should ensure their employees are properly fitted and trained for respirator use and the respirators are appropriate to protect from the occupational hazards in their workplaces, see Occupational Safety and Health Administration (OSHA) Respiratory Protection Standard 29 CFR 1910.134. An improperly fitted respirator can deem that respirator ineffective.
RHP Risk Management's occupational health and safety professionals regularly perform Quantitative Fit Testing (QNFT) and Qualitative Fit Testing (QLFT) for employers looking to provide their employees with appropriate PPE and accurate fit to protect them from respiratory hazards within all industries, including construction, healthcare and general industry. For more information, please contact RHP Risk Management at (773) 867-6010 and visit rhprisk.com.